The power and impact of managerial allies
Managers have the greatest impact on a sense of belonging, according to Gen Y and Gen Z employees across a range of under-represented groups.
Increasingly, allyship — standing up for, supporting and actively advocating for others who are different from ourselves — is being promoted as a tool to support diversity, equity and inclusion (DE&I) efforts. But so far, there's been little empirical research examining who the most effective allies are and what they can do to create a culture of belonging in the workplace. To answer that question, this past June we surveyed over 3,000 Gen Y and Gen Z individual contributors in the US.
While anyone can be an ally, the majority of respondents in our study (70%) say the person with the greatest impact on feelings of belonging is their manager. Because under-represented groups can face greater challenges to organizational entry, advancement and promotion, managers as allies can play a critical role in support of early careers.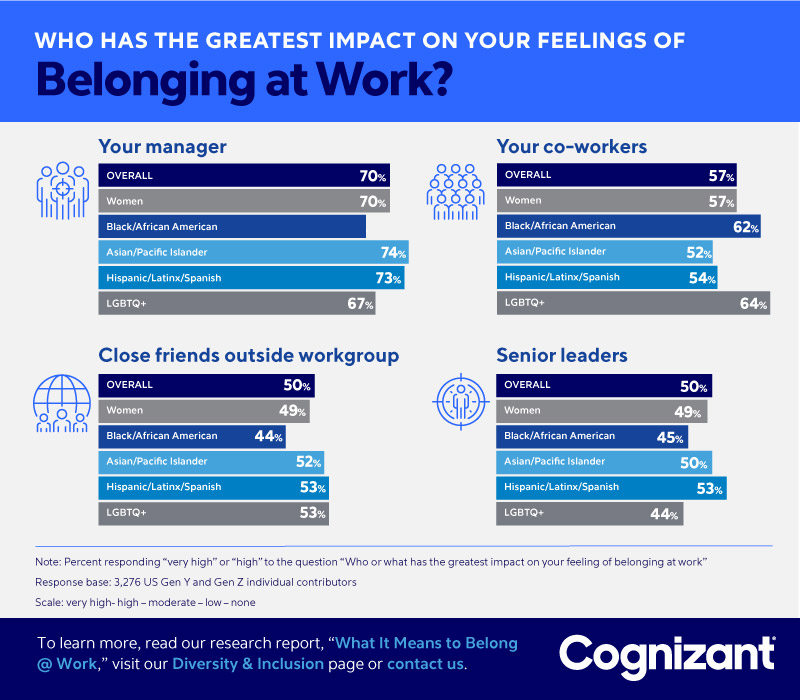 As a female client recently shared, "I have allies in many places, but as I think back, when my manager was my fiercest ally, he is the one that created a real launching pad for my career." Managers are that pivotal connection point between the organization and the employee.

The most powerful actions managerial allies can take
All under-represented groups expressed similar thoughts as to what, specifically, managerial allies can do to materially impact a sense of belonging, although there were differences of intensity among the groups' responses. Our analysis found that managers exert the greatest impact on belonging when they do the following:
Build relationships. First and foremost, establishing allyship requires building authentic relationships based on trust and accountability. In fact, more than 80% of respondents in almost all respondent groups named authenticity and trustworthiness as an important managerial characteristic when it comes to their sense of belonging.

Little wonder: Under-represented groups need to know they can confide in their managers about their workplace experiences — the subtle and not so subtle forms of discrimination. Allies put others at ease by building rapport, listening, sharing and understanding. They also follow through when they commit to doing something on behalf of their team members. 


Educate themselves. Allies understand that our personal identities are complex. They are shaped by the intersections of multiple characteristics — gender, race, sexual orientation, age and so on — each of which may cause varying degrees of workplace discrimination. Seventy-eight percent of our respondents overall said that managerial willingness to understand differences in others' backgrounds, experiences and difficulties has an important impact on their feelings of belonging in the workplace. 

Storytelling can be a powerful tool for creating an inclusive work environment. These shared personal stories serve to reinforce the universality of certain experiences and help build empathy for differences. In particular, women (83%) and LGBTQ+ respondents (81%) identified empathy as an important trait for managerial allies.


Are self-aware. To be effective, managerial allies need direct and immediate feedback on their workplace behavior. While they hope to catch themselves when they make assumptions about others, they won't always get it right. It takes being humble, vulnerable and open to feedback to be a great managerial ally. Self-awareness was particularly important to LGBTQ+ (70%), women (69%) and Black/African American (68%) respondents.


Actively listen. Great managerial allies listen more than they talk. They listen without interrupting — regardless of who is speaking. They ask clarifying questions. They listen to understand, not to judge. They see differences as assets that can help them make better decisions, as well as drive team innovation and performance. Women were most adamant about the importance of active listening (83%) and considering different points of view (79%).


Speak up and stand up. Managerial allies use their position and social capital to advocate for others. For women (75%) and LGBTQ+ respondents (75%), it is particularly important that managers speak up when they observe non-inclusive behavior and use their personal power to intervene when others are ignored, interrupted or belittled. When they encourage other team members to do the same, they effectively build a community of allies.

They also stand up. Because managerial allies are part of the formal career process, they have the power to advocate for inclusive practices broadly. They actively campaign for individuals — in the hiring, development and promotional processes — creating a launching pad for diverse talent. While this trait was important to overall respondents, Black/African Americans were most passionate about managers' ability to attract (67%), develop (69%) and promote (73%) people of diverse backgrounds.
Organizations that place a strong strategic emphasis on developing managerial allyship skills will ultimately create a culture of belonging. By being an ally, managers can significantly increase employee motivation, commitment, emotional and physical well-being, overall engagement and retention — all of which will lead to greater innovation and productivity.
When it comes to attracting, growing and retaining the diverse talent they need to survive and thrive in the future, organizations can rely on managerial allyship to deliver. 
For more on this topic, see "Diversity, Equity and Inclusion through a Gen Y/Z Lens" and "The Great Resignation: It's Time to Restart the Belonging Engine."
Subscribe for more and stay relevant
The Modern Business newsletter delivers monthly insights to help your business adapt, evolve, and respond—as if on intuition