How incumbent banks can close the open finance gap
Both CMA9 and incumbent banks face challenges in adopting open finance, but the former is well ahead of the latter when it comes to adopting this fast-emerging banking trend.
Our research finds that most banks in the UK and Irish market are committed to open finance as part of their transformation strategy. However, there are wide variations in how well they understand open finance benefits and how far they've come in incorporating it as a critical part of their future strategy.
In our recent study "The open finance paradox," the CMA9 banks—while not quite keeping pace with neo banks—are fully on board with open finance and well aware of its value. Their fellow incumbents, on the other hand, are some distance behind, choosing to invest in other areas and risking a misallocation of budget. (See sidebar for more information on our study.)
While incumbents clearly need to close the gap, CMA9s also face challenges in furthering their open finance goals, from understanding the real benefits of open finance, to scaling it to the entire organization.
The past six months have seen a surge in dialog surrounding the purported value of "open finance" and whether or not its potential has been realized in the UK. We see open finance as the natural evolution of finance—a collection of standards, technologies and organizations that enables consumers to access reimagined credit, asset management, insurance and pension products with greater ease and transparency from a range of bank and non-bank suppliers.
While the debate has stoked critical thinking around what financial institutions can hope to achieve through open finance, large questions remain around the potential benefits still on the table.
To better understand how financial institutions are approaching open finance, between April and July 2022, we surveyed over 200 decision makers with responsibility for open finance within their organizations. Respondents were drawn from a representative cross-section of leaders from within the CMA9, building societies and incumbent, challenger and neo banks.
Through our research, we discovered a paradox in financial institutions' approach to open finance. The paradox is two-pronged: First, there's a marked inconsistency in the models that different financial organizations are using to align with the concept; second, business and investment priorities are frequently misaligned in areas where open finance could help institutions achieve their goals.
In this series, we explore the differing priorities, strategies and opinions among financial institutions to investigate the current state of play and the likely direction of travel—whether they're confidently embracing open finance or reluctantly doing the bare minimum to comply with regulation.

The CMA9 edge
In our study, a full 65% of CMA9s see open finance as essential or important to their future success (see Figure 1). While this is a far lower percentage than our findings for challenger banks (94%) and neo banks (92%), it is much higher than for incumbent banks (27%).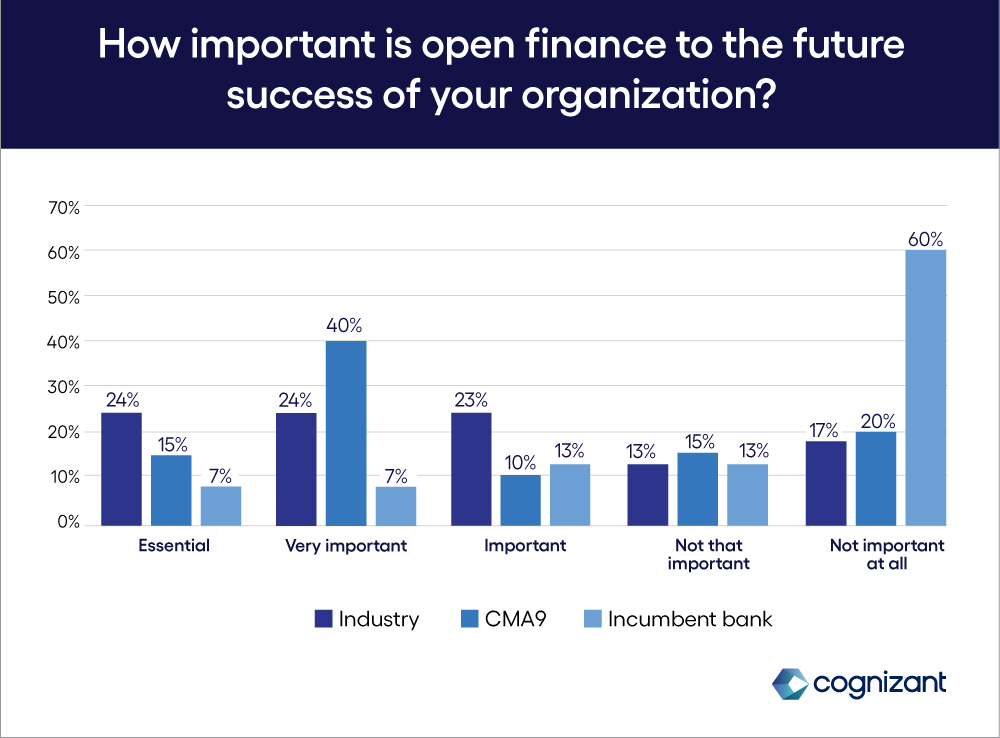 Figure 1
Source: Cognizant
Further, CMA9s plan to offer a breadth of new financial services, from three open finance products and services today to five over the next two years. In comparison, incumbent banks currently offer just a single open finance product or service and stated no plans to increase that total.
Eighty-one percent of CMA9 leaders (compared with just 22% of neo banks) think open finance will improve their organization's reputation in the market. This suggests that any action they are taking with open finance may be for the wrong reasons—and, as a result, fail to achieve the maximum potential business impact.
At the same time, we see CMA9 banks beginning to move from a compliance-only mindset to gaining an understanding of the additional (and perhaps unexpected) use cases applicable to open finance, such as enabling customers to support environmental, social and governance (ESG) issues and reduce their carbon footprint—a business priority for 60% of CMA9s. But they need to work out how to harness open finance to fulfill these ambitions, for instance, by partnering with other providers of "white-label" products.
Reluctance among incumbents
By comparison, 60% of incumbent banks view open finance as not at all important to their future success, and 57% believe it has been over-hyped and is unlikely to disrupt the industry; as a result, internal resistance to change is far greater than that faced by CMA9 institutions.
Incumbent banks also admit to having a limited understanding of the benefits of open finance, with only 23% believing they fully understand the benefits. This, in part, could be because they were not required to comply with open banking regulation in 2018 as CMA9s were.
Yet the benefits of open finance align firmly with incumbents' stated business priorities: helping to accelerate their digital transformation (47%), reducing their operating costs (50%) and fundamentally supporting their business model. This gap in understanding suggests an urgent need to educate and accelerate internally.
Many incumbents are stuck in the risk/reward conundrum that hamstrings further advances into open finance. Business change can be expensive and risky, and their ecosystem isn't as mature as it needs to be—legacy systems, business models and capabilities need overhauling to accommodate such major changes. This, coupled with uncertainty as to whether customers will want to sign up for the new services, leads some within the organization to take a view of, "If it isn't broken, why fix it?"
Faced with these challenges and concerns, many incumbents seem unwilling to engage any further in open finance, preferring instead to wait to see how the rest of the industry manages the execution and rollout of their open finance strategy before they, too, start to invest.
But this mindset of "too much risk with little reward" guarantees they will fall behind. Incumbents will always have a place in the market, but if they don't act quickly, they risk becoming relegated to the status of a mere supplier of financial products, offering limited additional value or engagement in a customer's life.
"Open finance is a relatively new concept, and top management's decision to promote it is rather uncertain, particularly because of the possible harm from sharing data with third parties regarding customers' cybersecurity. Within top management, most believe open finance is an important step toward digitalization. In contrast, some believe it could be a threat, that we are not ready for the risk involved, and that it is important to change the risk management policies before it is implemented." – Chief Product Owner PSD2/Open finance, Incumbent bank

Following the CMA9 lead
CMA9s are demonstrably ambitious when it comes to their open finance strategy: In the next six months, 55% plan to design and offer open finance products for customers who have their primary bank relationship with other providers (see Figure 2). Additionally, 40% want to help customers better understand the benefits of open finance, hoping to drive demand to keep pace with the new open finance products and services they are rolling out.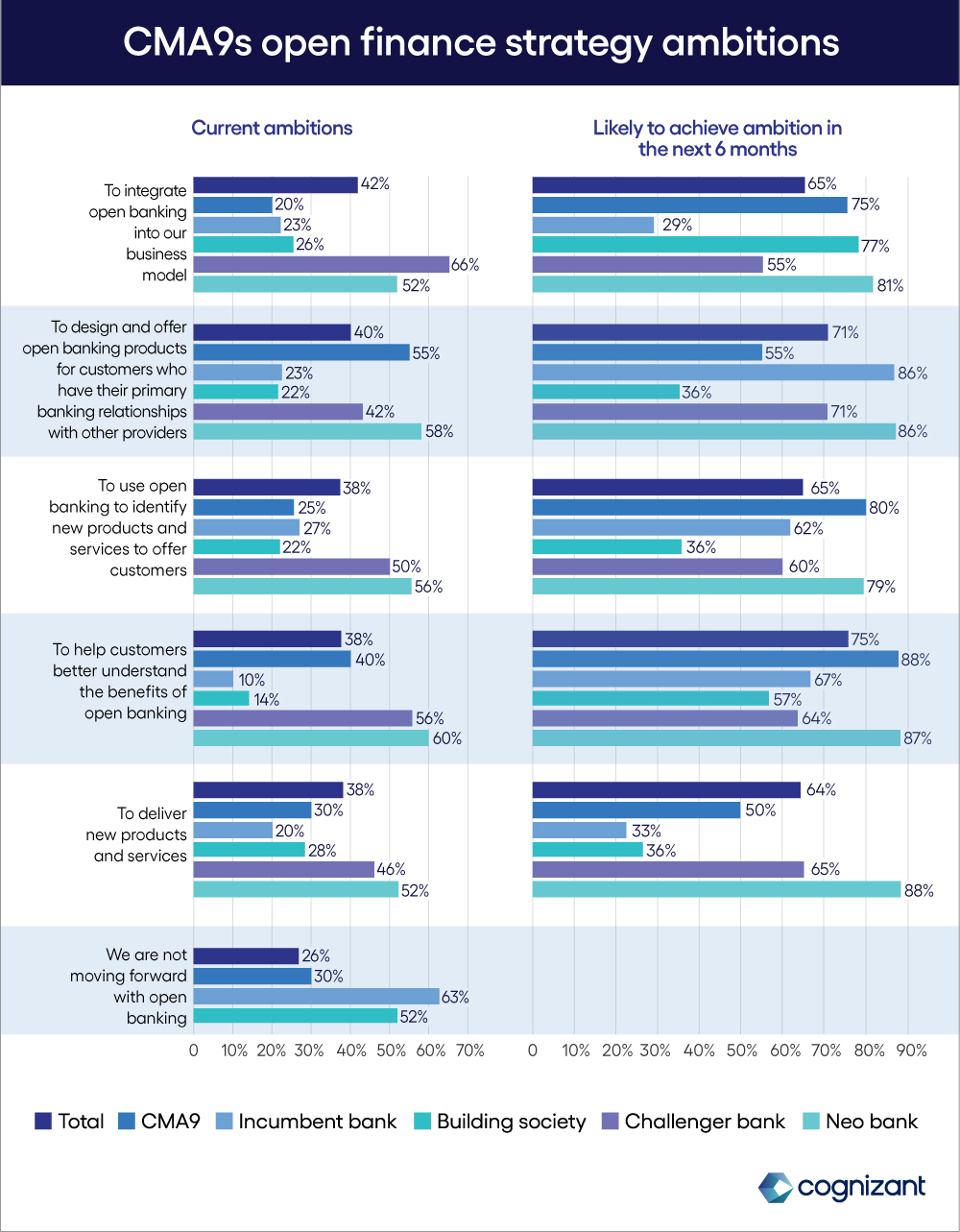 Figure 2
Source: Cognizant
While CMA9s have bold plans in place and a solid business case, they're likely to need some external support in delivering open finance on an organization-wide scale.
Incumbents face a different challenge, having only recently begun offering basic open finance services, such as account aggregation. To shift mindsets, they need to educate and accelerate, first by overcoming their preconceptions of open finance being limited to basic use cases, and then by tapping into a rich partner ecosystem to help drive their open finance journey at pace.
Where CMA9s lead the way, incumbents should hasten to follow. If executed with imagination and a desire to innovate, this could see them leapfrog their competitors.
"Our organization views open finance as imperative to our survival because customers … now expect services to be tailored to their specific needs. Open finance provides previously unavailable opportunities, like improved security and accountability, easy integration, customers having more access and control over their data, improved treasury management and new business models… I strongly believe that open finance … will transform the future of money." – Director/Head of Open Finance, CMA9 bank

The way forward
CMA9s are on a good path but need a firmer understanding of how open finance can benefit their organizations and customers. Partnerships with third-party providers can help them in this regard. Other incumbent banks need to look to the customer of the future and gain greater insight into what their needs are likely to be and how they can be met.
Develop and commit to an open finance strategy and roadmap. While some CMA9s have experimented with more advanced open finance features and seen pockets of benefit, it needs to be incorporated into the organization's overall strategy and not seen as a separate, standalone entity. By incorporating open finance into any discussion of existing and future products and services, rather than just thinking about it in isolation, CMA9s can better understand where this new technology can play a role in achieving their goals.


Develop and roll out new organizational KPIs. Establish open finance as a critical success factor on which both individuals and functions are measured. Introduce measures that encourage open finance-based thinking from the ideas stage all the way through to implementing open finance products and services. Metrics could include the number of open finance proofs of concept, the number of open finance products, the number of partnerships, etc.


Assess the underlying infrastructure and applications for open finance readiness and develop a plan to resolve them. While CMA9s are on the right track—and for the most part have access to needed resources—the understanding and digital knowhow required to fully embrace open finance can't be overstated. Outside expertise can play a key role in accelerating and delivering on that strategy.

An outsider view could be even more beneficial to other incumbent banks. Successful open finance implementation requires changes to how you design, develop, test and release software. This means enabling your technology teams to work in new ways, with the opportunity to consider outside expertise—often the quickest way to create capabilities—if needed. Teams who have gone from creating software for internal use are now having to think more about integrating seamlessly with other organizations, which requires a shift in mindset.


Build a business case that creates a sense of urgency. Older customers are a diminishing population, so how do incumbent and CMA9 banks plan to continue doing business in 10- and 20-years' time? Build a long-term business case with a number of potential scenarios to help understand the benefits of open finance and potential risks of not investing.


Don't rely on customer demand as your only guide. CMA9s are driving their own transformation, but the delicate balance between providing open finance products and anticipating customer demand has brought them to a chicken-and-egg impasse. They want to make customers aware of the benefits but also to have products and services lined up to feed demand as it grows—but which comes first? Here too, external expertise could help identify a resolution.


Collaborate to build public trust. Both CMA9s and incumbents can bring customers along on the open finance journey. Customers don't trust just anyone with their money—or their data. CMA9s are already well aware of this reality, with 70% agreeing that the financial services industry needs to do more to educate customers about the benefits of open finance. And with their dominant market position, CMA9 players can be a key part in this change.

If the financial services industry, regulators and fintech providers come together with a common message in favor of the open finance revolution, their combined authority is more likely to support customers in understanding its key concepts.

To learn more, read our full report, "The open finance paradox" or contact us.
Subscribe for more and stay relevant
The Modern Business newsletter delivers monthly insights to help your business adapt, evolve, and respond—as if on intuition