Re-evaluate your energy management strategy
Emerging digital solutions can cut both costs and emissions. We offer a 4-step plan for getting started.
Everywhere you turn, energy is in the news again. Recent fuel shortages and new geopolitical crises have raised the energy inflation ghosts of the 1970s. And as oil and gas prices spike, they pierce businesses and households alike, causing severe economic pain.
But today, we have more tools to respond. Energy management no longer requires large capital investments in engineering equipment to make significant savings in costs and emissions. Mature and proven digital solutions offer an alternative way for businesses to save costs and emissions quickly without using up scarce investment capital or enduring the lead times of a stretched supply chain.
In this article, we'll explain how these digital tools can deliver by:
providing insight into energy savings opportunities


matching energy supply more precisely to demand


operating existing equipment more efficiently


helping consumers take more control by participating in the low-carbon markets of net zero energy systems
How much energy can be saved?
From today's vantage point of soaring global energy prices, it can be hard to believe that energy has not been a focus for most industries. But the reality is that energy has not been a major cost for most companies for a long time. In a typical year, energy costs average just 5% of total production costs and so have received an equally small share of the investment attention. Over time, this trend has resulted in energy management receiving only a small share of investment attention.
But these are not typical years. Energy-saving projects in normal times reduce costs between 10% and 20%. Today these savings could amount to even more.
Climate and sustainability issues are also focusing the attention of companies on energy. About 80% of the world's annual greenhouse gas emissions are related to energy use in some way. Companies seeking to reduce their direct emissions must make energy-saving projects the cornerstone of their reduction strategies.
The upside of this historical lack of attention is that many previously ignored opportunities to save are waiting to be found again. The opportunity for energy saving is so substantial that the International Energy Agency terms energy efficiency the "first fuel."
What is different about digital energy management?
Just a decade ago, energy management was a highly manual process. Specialists visited sites to take measurements of operating equipment using handheld and temporary sensors. Data analysis was carried out in spreadsheets, and a static opportunities register was constructed. Even with these limitations, significant energy savings were achieved—but in a well-documented rebound effect, energy use at any given site would creep back up as behavioral resolve waned, organizational attention shifted, and equipment performance declined.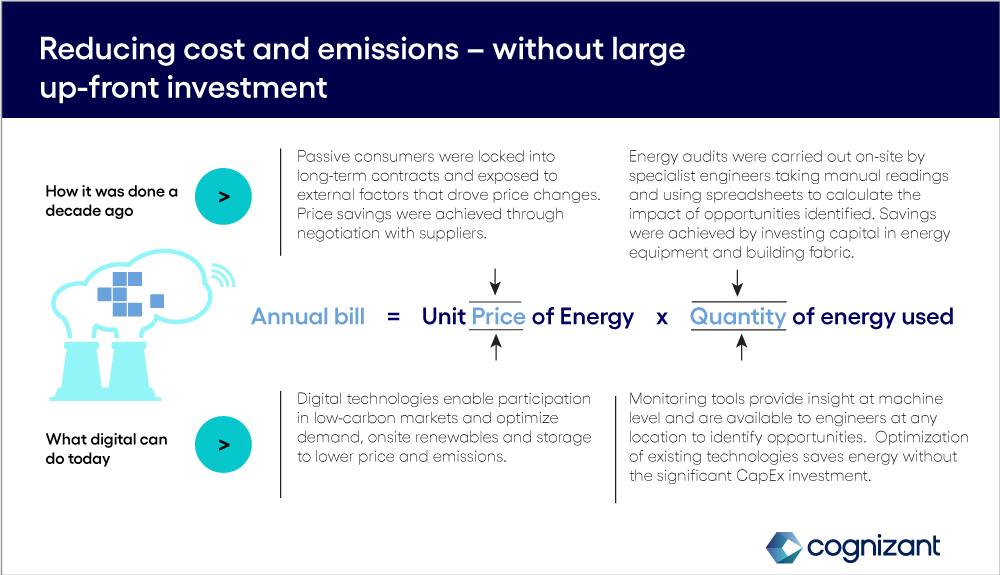 Figure 1
Today there is much more we can do. Built atop Internet of Things (IoT) sensors and metering infrastructure, today's digital tools monitor performance constantly and accurately, providing insight into where savings are available. Data streams are available to experts both inside and outside the organizations; these experts can remotely assess the performance of individual machines and processes, comparing across portfolios and benchmarks to identify priority areas for savings. They can also use digital twins to simulation models of key processes linked to actual energy data.
In contrast to the old ways, savings identified through digital tools can be maintained long-term. For example, maintenance of energy equipment can be linked to that equipment's performance, with any needed work automatically included in day-to-day maintenance activities.
Digital monitoring tools also extract value from energy data for other parts of the organization—and even for suppliers and customers. For example, they make the often-onerous task of carbon accounting much more straightforward and robust. They also offer the potential for Scope 1 and 2 data to be shared across the value chain transparently and efficiently.
Graduating to intelligent control
Perhaps the largest benefit of digital energy management is the enhanced ability to control equipment intelligently. With this, businesses can become nimbler and enhance control over both how much energy they use and how much they pay for that energy.
The data streams from IoT sensors and monitoring systems are used to precisely identify and predict service demand and more efficiently meet that need. Opportunities for this kind of system optimization are plentiful. For example, during the pandemic-enforced move to working from home, office occupancy dropped to close to zero—but energy demand fell by much less, bottoming out at a decline of 15% to 20%. This suggests there is significant room to optimize energy demand in commercial spaces and make some substantial cuts to the quantity of energy used.
The data streams also allow predications on factors such as renewable energy output and market prices. These predications enable intelligent decisions on the best times to use energy, when to charge batteries and when to turn on machines. This important feature will become crucial as energy systems come to rely more on weather-dependent renewable energy sources. Intelligent control allows businesses to participate in the energy market and move demand to those low-price periods that coincide with high renewable output.
Launching your program
Through our work with myriad clients across industries, we've developed the following approach and consideration for initiating digital energy management: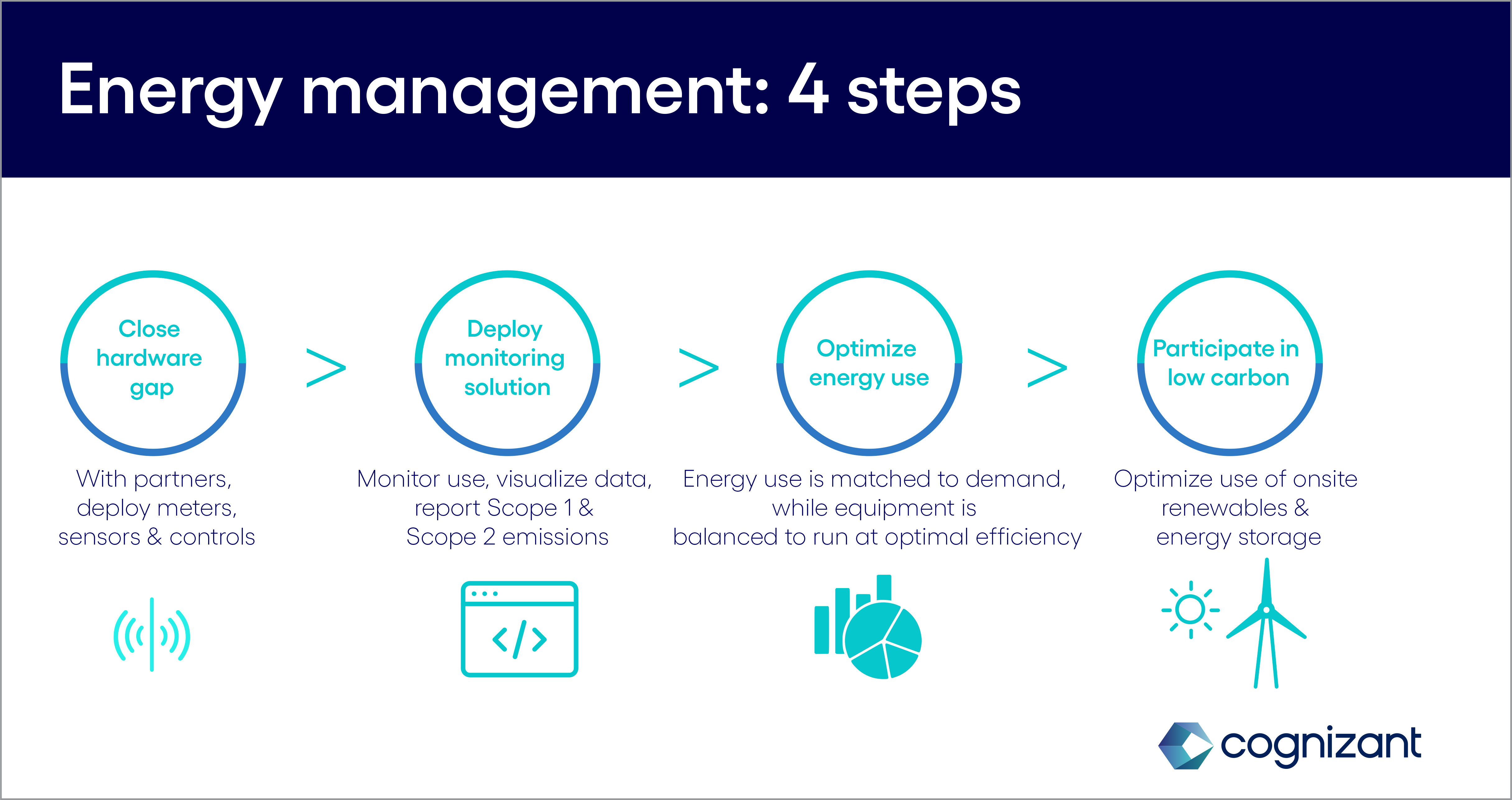 Energy monitoring system. Start by finding the energy monitoring system that is most appropriate for your selected sites and portfolios. This includes finding and aggregating the available data to identify opportunities that offer immediate gains, such as the automation and validation of utility and invoice payment records. This step quickly identifies energy use hotspots and may provide insight into the available sensor and meter infrastructure.


Site visit and assessment. Carry out a site visit to assess the existing hardware landscape of sensors, controls and meters. Engage engineering experts to help carry out an audit of onsite energy equipment, and to evaluate these assets' potential for onsite renewable energy. The opportunity register output from this phase can be used to develop a business case and implementation roadmap.


Hardware and infrastructure. Obtain and deploy any missing hardware or infrastructure. During this phase, meters and sensors are added; controls are enhanced; and existing sensors are calibrated. Data streams from the equipment are integrated with data on weather, occupancy (in the case of buildings), and other specific demand drivers for industrial processes. These data streams are integrated into the energy monitoring system and sent to experts.


Optimization. To optimize your program, you must design control algorithms and integrate them into the energy management system, focusing first on where production can more precisely meet demand, and then on how this can be done as efficiently as possible. By working with your energy team, you can devise a set of anomaly alarms and integrate maintenance workflows into asset management and maintenance protocols. For larger, more complex systems, such as production facilities, you can implement a digital twin solution to optimize processes further.

To learn more, visit the Sustainability Services section of our website or contact us.
This article was written by Dr. Matthew Clancy, a principal advisor leading the net zero cluster in Cognizant's Sustainability Services practice.
Subscribe for more and stay relevant
The Modern Business newsletter delivers monthly insights to help your business adapt, evolve, and respond—as if on intuition