Life Sciences enjoys data dominance – but must solve cultural challenges
Life Sciences firms benefit from robust data management capabilities, helping set the sector up to reap the benefits of new digital technologies.
From vaccine testing and production to care access and delivery, every facet of the Life Sciences industry was forced by the pandemic to adapt at speed and scale. Critical business processes such as clinical development, manufacturing and supply chain had to evolve to meet unique pandemic challenges and financial realities. Yet while the pandemic boosted market volatility, Life Sciences companies are well attuned to rapid change. In response to the pandemic, national regulatory environments demonstrated unprecedented flexibility, and the constant bubbling of scientific discovery can turn promising clinical avenues into dead ends overnight. Responding to change is embedded in the fabric of the industry.
Moreover, the sector is no stranger to pulling in advanced technologies to solve business challenges. It was years of artificial intelligence (AI)-powered research into Messenger RNA that allowed Covid vaccines to roll off production lines so swiftly. And the ongoing application of advanced data strategies enables firms to accelerate time-to-market for new products—whether they be the latest wonder drug or a next-generation MRI machine—and to repurpose old products or prior areas of scientific investigation.
But at its core, Life Sciences is an industry that still has many opportunities to improve, as Economist Impact research supported by Cognizant demonstrates. Moving fast is a boon in some areas, such as product development, but stifles others, such as trickling down corporate strategies across the business. Indeed, organizational alignment, and the need to trickle down top-level strategies, top the list of business challenges in the sector. Both are tough to do when moving at speed and reacting to change.
Maintaining data dominance with intelligent implementation of tech
Respondents were asked what technologies and methodologies their business has already adopted, or is planning to adopt. (Percentage of respondents who advised they have adopted or are planning to adopt each technology)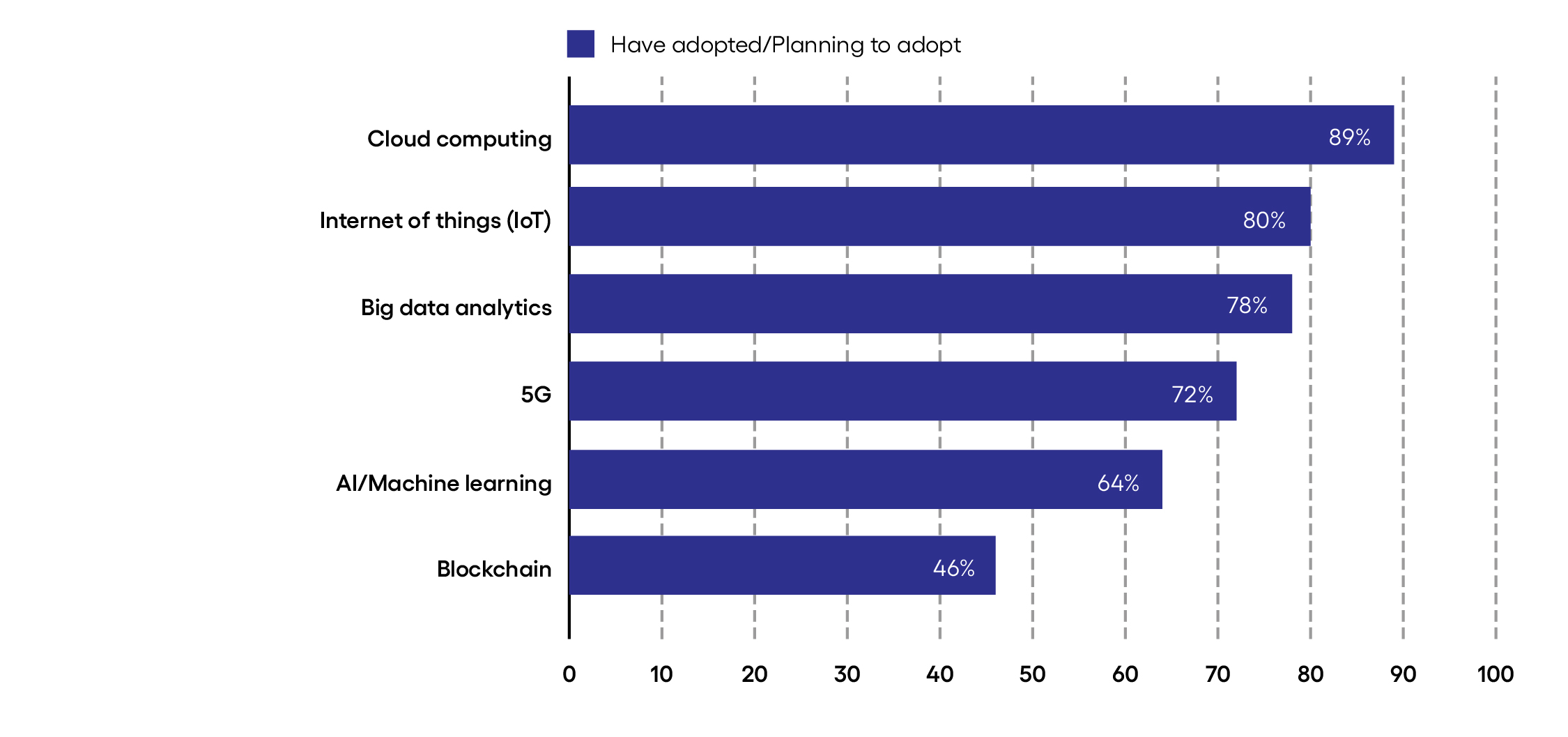 Response base: 250 senior Life Sciences executives
Source: Economist Impact Survey 2022
Figure 1
What they're good at
Data domination. Life Sciences stands out for its maturity in data management. Leveraging data assets for competitive advantage is deeply ingrained in the sector's business models — whether that means overlaying medical devices with analytics capabilities, harnessing patient data to improve the patient's experience, or funnelling data into algorithms to power drug discovery and improve outcomes.


Technology strategy. The sector boasts robust technology strategies that leverage emerging and frontier tech to augment business processes. At the top of executive shopping lists sit the Internet of Things (IoT) at 80%, big data analytics (78%), 5G (72%) and AI (64%). Sub-sectors of the industry lean into certain technology groups more than others. For example, device manufacturers look to solve connectivity challenges with 5G and IoT, while biopharma firms leverage tools to drive smart manufacturing efforts that support the commercialization of cell and gene therapies.
Long way to go
Taming the data beast. Even with this tech in place, the data is now beyond human-scale understanding. Take the myriad systems (circulatory, respiratory and so on) and the microbiome that makes up the human body; the combined data is simply too much for any one organization to handle in isolation. As a result, leaders are working to locate areas of real scientific advantage and build technology solutions that help them get there faster.
The importance of bridging the gap
Moving fast in the age of discovery. The industry urgently needs to harness digital strategies to boost better decision-making and problem-solving. While Life Sciences firms implement solutions for today's problems, new technological challenges emerge as subsectors of the industry start to form foundational roles in complex ecosystems. For example, medical device manufacturers must overcome complex interoperability and connectivity issues as patient devices move seamlessly between unique technical environments of hospitals, rehabilitation settings and private homes.
Strategic imperatives focus on operational alignment and scenario planning
Respondents were asked to what extent their company's corporate strategy prioritizes the following (Percent of respondents who selected Medium, High, and Business Critical Priority).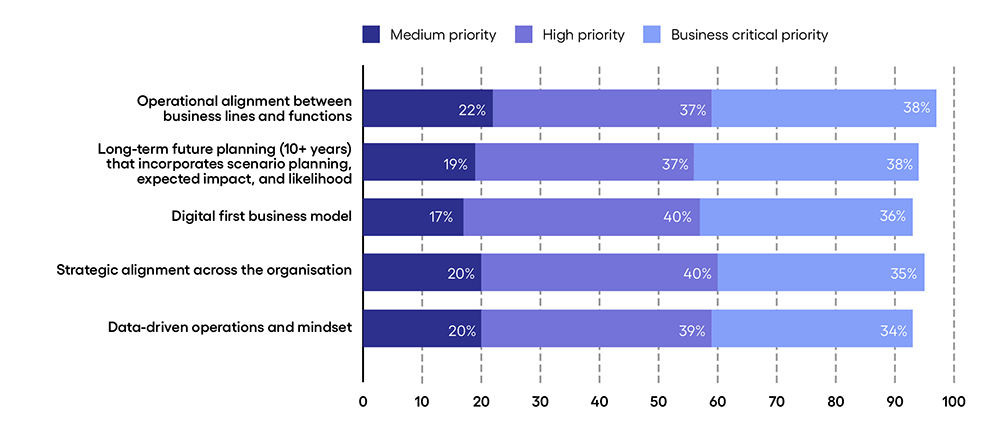 Response base: 250 senior Life Sciences executives
Source: Economist Impact Survey 2022
Figure 2
What they're good at
Strategic focus on operational alignment. Compared to other industries, the sector struggles to provide operational and strategic alignment. Encouragingly, there is a clear strategic commitment to tackle this and drive greater operational alignment across disparate business lines. Fully 38% of respondents believe this is a business-critical imperative. This is significant as leaders scrutinize the economics of new and existing solutions brought to market—mapping out new processes across the business as new technologies and approaches emerge at increasing speeds.
Long way to go
Balancing long-term planning with short-term volatility. The sector must wrestle with a volatile market environment in which scientific and technological discoveries and evolving regulatory structures can alter market direction overnight. In this environment, translating a top-level strategy into operational alignment challenges even the most sophisticated firms. As a result, while they crave greater alignment, many companies struggle to balance long-term strategy with the need for agility in an industry that moves at breakneck speed.
The importance of bridging the gap
Everyone aligned to a clear mission. The disconnect described here causes significant cultural challenges. Saddled with siloed organizational structures and uncollaborative working environments, the sector is under pressure to transform to keep up with the dizzying pace of change. The increased criticality of operational and strategic alignment, long-term planning, and a digital-first business model are clear signs that leaders across the industry are pushing for change.
Significant challenges pivot on strategy and people
Respondents were asked what were the most significant challenges for their business when implementing new processes, products, services and technologies in the past year? (Percentage of respondents selecting each challenge. Respondents were allowed to select up to five challenges)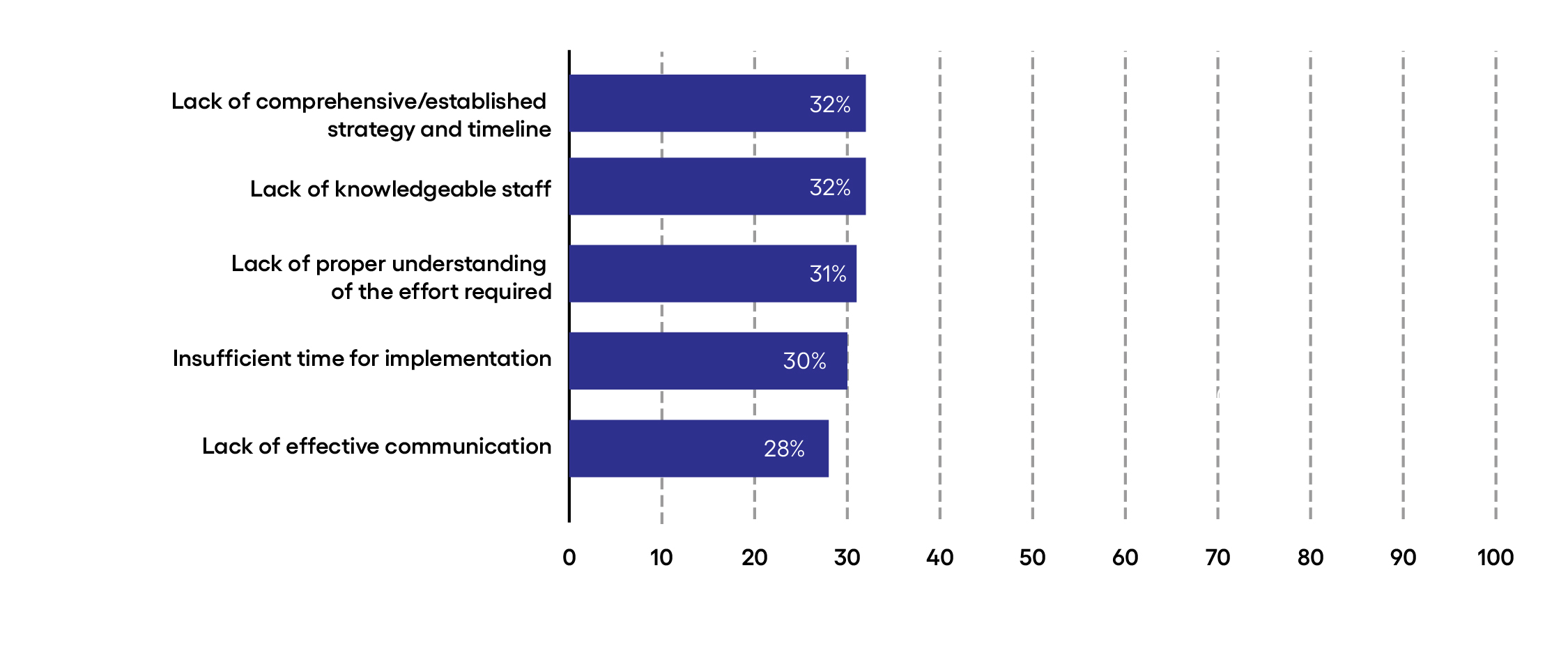 Response base: 250 senior Life Sciences executives
Source: Economist Impact Survey 2022
Figure 3
What they're good at
Focused go-to-market strategy. While the Life Sciences market is vast, it is comprised of myriad discrete opportunities. For example, oncology alone, comprises thousands of different diagnostics requirements, as well as an accelerated set of remedies to meet a growing list of diseases. As a result, companies are laser-focused on the sectors of the market in which they have the greatest competitive advantage, forming clear and targeted top-level strategies.
Long way to go
Trickling down top-level strategies to people. While they enjoy admirable strategies, Life Sciences firms struggle to communicate those strategies throughout the business. The lack of a clear strategy plagues nearly a third of companies. And ineffective communication and coordination initiatives are hampering transformation efforts for more than a quarter of respondents.
The importance of bridging the gap
Balance short-term needs with long-term aims. Life Sciences companies must work to translate their top-level strategy into a well-articulated vision that works across the business so that everyone understands the journey. By building clearer and more coherent strategies, the sector can take a longer run up to transformation, solving key challenges such as insufficient time for implementations and conflicting priorities.
As the Economist Impact research commissioned by Cognizant demonstrates, the Life Sciences sector may benefit from strong digital strategies, but many companies in the industry struggle to align their market objectives with clear goals and aims—fueling a raft of culture challenges that they must overcome to thrive in the future.
To learn more, visit the Modern Business section of our website, or contact us.
The views and opinions expressed in this report are those of Cognizant and do not necessarily reflect the view and policies of Economist Impact. Data presented is from an Economist Impact executive survey, commissioned by Cognizant, conducted in early 2022.
This article was written by Brian Williams, Americas Strategy & Innovation Leader in Cognizant's Life Sciences practice, Kevin Molloy, Consulting Leader in Cognizant's North America Life Sciences practice, and Ollie O'Donoghue, Senior Director in Cognizant Research.
Subscribe for more and stay relevant
The Modern Business newsletter delivers monthly insights to help your business adapt, evolve, and respond—as if on intuition