How pharma companies can prototype an omnichannel commercial model
Companies are adopting a data-based, omnichannel engagement model — focused on metrics, micro-segmentation and precision content — for a digital version of the 'human touch' in dealing with HCPs.
Traditionally, pharmaceutical companies' interactions with healthcare professionals (HCPs) have been highly personalized — primarily via face-to-face, in-office visits. Recently, however, this model has proven less effective. Even the large, expensive field forces of sales reps and medical sciences liaisons are reaching only about 60-70% of the HCP market for most brands. Change is imperative.
Thus, the industry is rapidly activating digital marketing channels, a trend that has been turbocharged by the pandemic: With lockdowns impeding in-person visits, emails, web downloads and webinars became life sciences companies' only reliable methods of connecting with HCPs. This digital shift has also been the impetus for a new go-to-market model where a hybrid rep is supported by digital marketing components. Some companies engage 100% digitally for select health conditions, products and markets.
Amid these industry-wide transformations, companies are finding that personalization poses a thorny challenge. While the old field-force-driven engagement model was inherently personalized, to retain the human touch with a digital approach requires coordinating communications across all channels and leveraging data to deliver customized content. A small number of innovators have launched and scaled hybrid commercial models by using insights gleaned from HCPs over time, such as channel and content preferences.
They have realized significant benefits, including:
5–15% revenue uplifts, driven by increases in prescribers and in TRx/NRx per prescriber


10–40% gains in marketing efficiencies, with faster time-to-market and greater cost savings


Higher HCP satisfaction, as measured by NPS scores
There is a real opportunity for pharma companies seeking to follow suit, but they face daunting complexity. We've learned, in our experience working with cutting-edge companies, that the above benefits are realized only when sophisticated marketing tactics (such as customer micro-segmentation) and advanced technologies (automation, AI, etc.) are conjoined. And the best path to success is to establish a minimum viable product (MVP) and then scale from there to drive broader business value.
Key elements of an omnichannel MVP
The MVP journey starts by partnering with brand leaders to establish business objectives — based on a full understanding of the product portfolio (i.e., each brand's growth curve and relative performance). What measurable goals will best enable growth? The company could choose to focus on reaching more HCPs, for example, raising awareness of new products, etc. The analysis should also include the brands' commercial strategies and their impact to date. To continue to refine the original growth objectives, deepen the analysis to cover brands' targeting models, messaging, active engagement channels, data availability and promotional responses.
This initial stage should enable the company to identify which brand or brands have the greatest potential to benefit from a data-driven, omnichannel approach. Just as important, the exercise should result in defining which brands and markets are most open to change and eager to experiment with the new model.
Once there is buy-in from the brands and local markets involved in the MVP, establish a core team of global and local leaders to execute the pilot. Engage with external strategic partners and software vendors to leverage their expertise and talent in consulting, change management, analytics and technology.
The MVP itself should focus on three elements:
1.

    Value metrics

Traditional pharmaceutical company metrics, based around visits with HCPs, covered numbers of visits by reps, how many prescriptions providers wrote, percentages of eligible patients receiving a particular drug, etc. This led to a focus on how much of an HCP's attention a pharma company captured, market coverage and reach, and messaging frequency.

Deploying an omnichannel marketing model demands very different measurements for customer satisfaction, the experiences that drive it, and success in creating meaningful relationships with customers. This more holistic approach means going beyond open/click rates, number of website visits, time spent on pages, display ad views, etc. New metrics are aimed at understanding the customer journey and measuring the effectiveness of moving HCPs through it.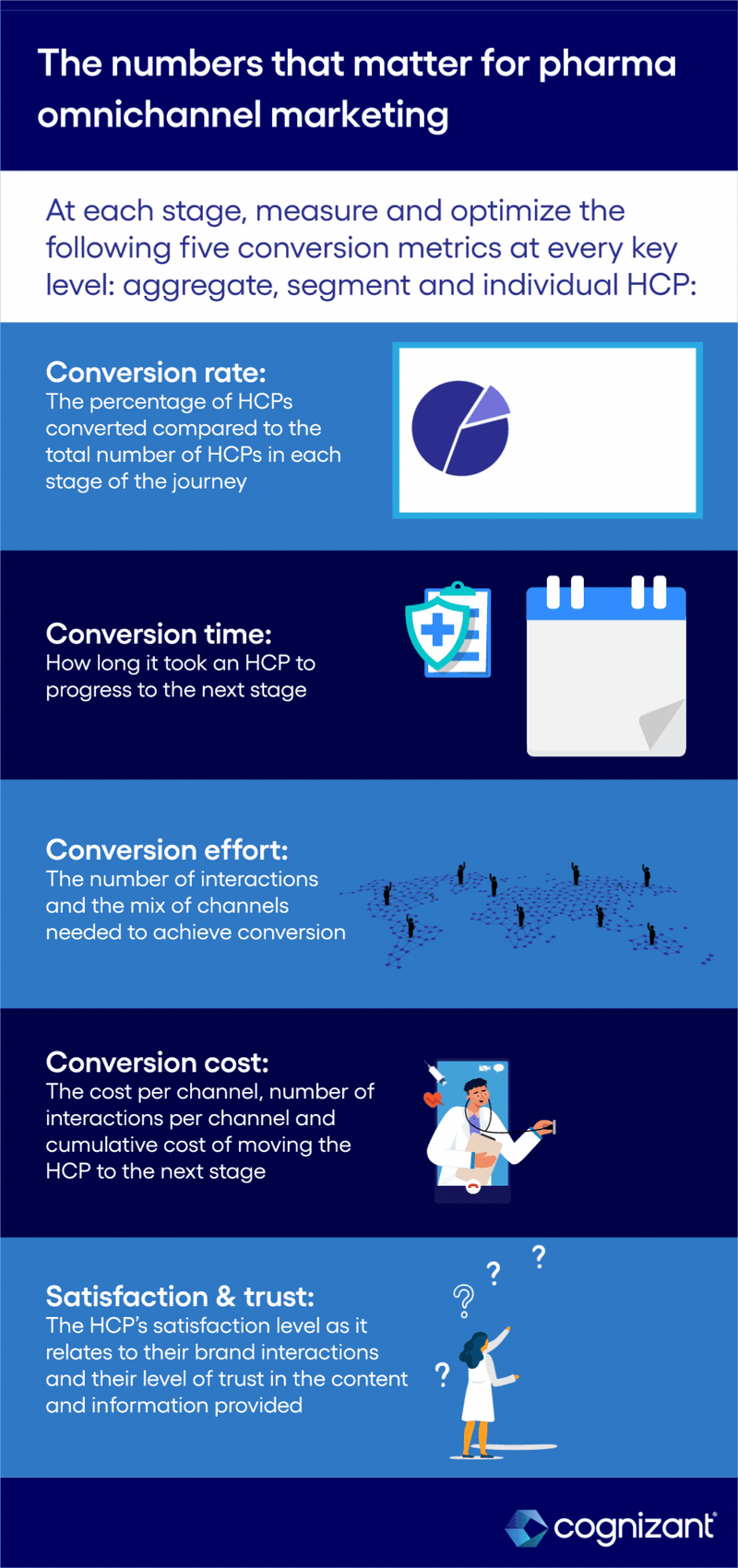 2.

   
Data & insights to enable customer micro-segmentation
An MVP should be able to process data, create micro-segments of customers and then offer intelligent recommendations on a next best customer interaction. This requires the processing of 1st, 2nd and 3rd party information stored in internal transactional systems and external data sources. Data warehouses have been useful for storing and analyzing traditional data for reporting purposes: prescription sales, claims and promotional activities. Linking these traditional data sets with new ones such as EMRs, clinical lab reports, unstructured social data and key opinion leader (KOL) influence networks demands a modern data platform in the cloud to manage the volume, speed, cost and processing ease.
The key, however, is to apply machine learning (ML) algorithms to these data sets and integrate with CDP, CRM and other marketing automation systems to prioritize HCP targets, optimize the channel mix and suggest messaging based on an HCP's specific patient population.
3.

   
An autonomous, agile system to generate content
Go beyond disconnected, manual, and time-consuming content processes to more integrated and automated systems. These intelligent systems should tap modular, preapproved content using standardized templates and integrated content production and delivery hubs. A/B testing of content and real-time optimization will drive content personalization based on HCP micro-segments.
In this process, companies can leverage AI/ML to automatically build, tag and semantically store content in a digital asset management system. For optimal use, content must be developed and stored as subcomponents — such as videos from KOLs or snippets of key messages. Organizations can then auto-generate channel-specific content like emails or web pages by compiling the subcomponents within medical, legal and regulatory (MLR)-compliant templates.
Such automation can reduce MLR approval times, which are typically measured in months, to under one week. One client's AI-based content orchestration engine used natural language processing (NLP) to detect and pre-check copy material before submitting for MLR review — thus cutting MLR copy review activities in half.
Scale up to include new countries and brands
MVP timeframes can range from four to eight months, depending on market complexity and how much change management is needed. For any MVP, however, the end game remains the same: provide learnings about its tangible financial and business benefits and how it affects both customer and employee experience.
Leverage brand and local leadership from the MVP to champion and advocate for the new engagement model. Formalize the learnings from the MVP into a playbook for onboarding other brands and markets.
Following the MVP, a larger-scale transformation plan should have clear objectives and metrics, roles and responsibilities, governance structure, scope and timelines.
As more countries join, it is key to maintain a management and communication plan to share the value and experience of customers and commercial teams: What worked, what didn't — and why? Transparency will enable continued planning and evolution of the transformation agenda for long-term success, adoption and trust.
While rolling out an omnichannel MVP is rigorous and complex, it's a key stepping stone for widespread transformation to a new and more profitable hybrid engagement model that deploys fast-evolving technologies such as AI to provide, perhaps paradoxically, the personal touch in HCP relations.
This article was written by Vyom Bhuta, Global Head of Commercial Innovation in Cognizant's Life Sciences practice.
Subscribe for more and stay relevant
The Modern Business newsletter delivers monthly insights to help your business adapt, evolve, and respond—as if on intuition