Time to make apps: The 2023 voice of the member survey
Convenience and convergence are driving health plan member digital wish lists. Payers offering tools and features that go beyond digital window dressing will compete more effectively for member retention and lifetime value.
Health plan members are not immune to the now-entrenched behavioral shifts driven by the COVID-19 pandemic. Convenience has become the viral app, with consumers assuming they will be able to carry out almost any transaction they wish, digitally, from the comfort of home. Plan members expect the same. They want streamlined self-service tools for doing business with plans and providers and digital assistance in achieving health and wellness goals. Payers that deliver on these expectations can build long-term relationships with members and capture greater lifetime value.
Those are just some of the conclusions we draw from our latest Voice of the Member survey.* Since we first surveyed plan members in 2016, they have steadily adopted payers' digital tools. In fact, the number of members who reported downloading their plans' mobile apps has nearly doubled since our 2018 results. Yet many members also indicate the digital features they want are not available or are of disappointing quality. We think that's in part because many payers see digital tools and channels as window dressing, as opposed to a brand identity's front end, inseparable from modernized operations and platforms.

Aligning investment priorities with member expectations

Payers can use the following survey highlights to help map where their current infrastructure and digital investment roadmaps dovetail—or don't—with member expectations.
Members have an extensive wish list of digital features. Many of the digital features available to members, such as checking provider directories and claims status, are now mere table stakes. The next frontier, as shown in Figure 1, is offering digital features that set plans apart from their competitors, such as researching plan costs and getting estimates for services. To go further, payers that want to lead in their markets must deliver the features now emerging as important to members, such as interacting with a nurse or case manager digitally.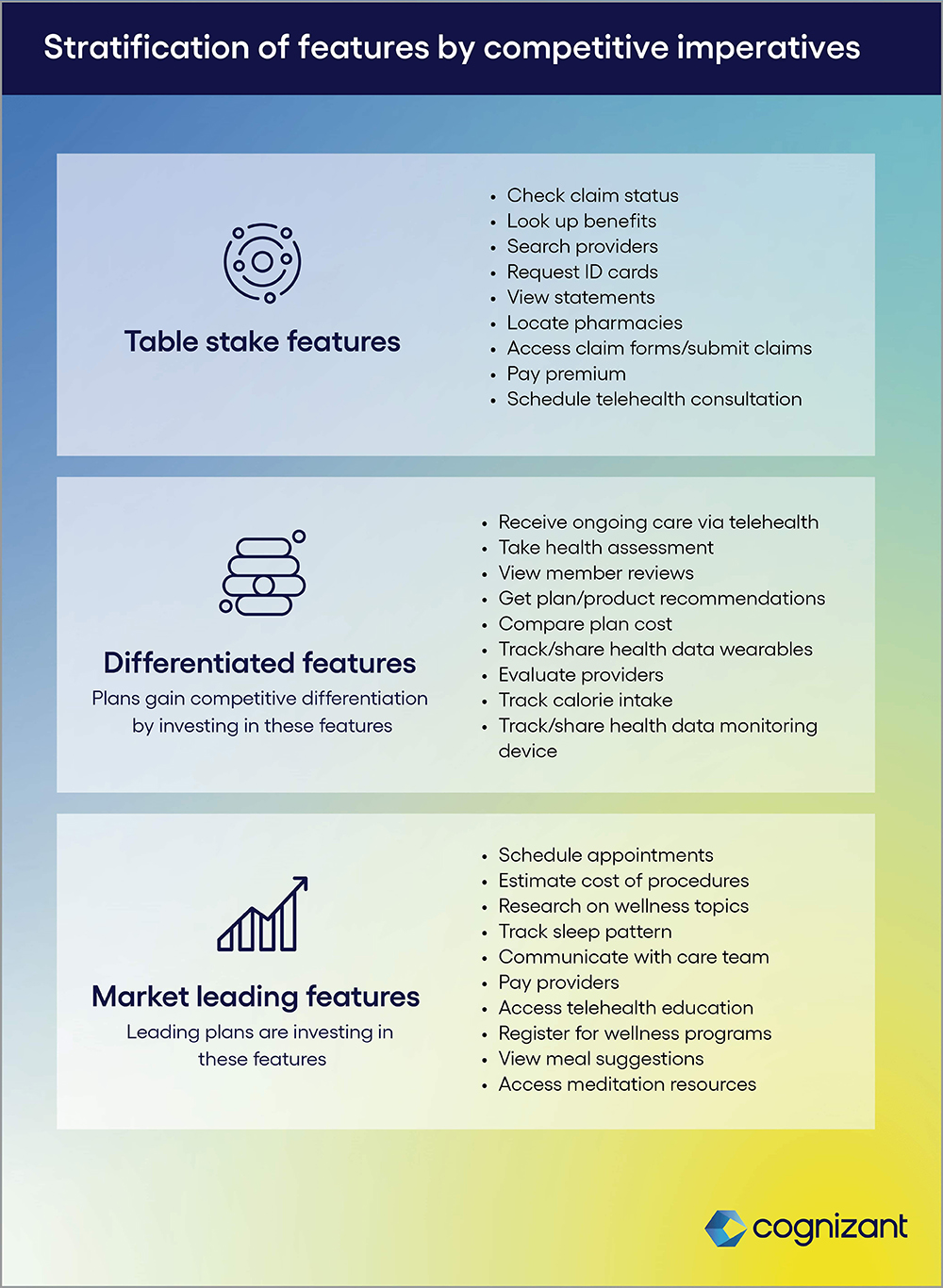 Figure 1
A plan's digital capabilities are now more important to member buying decisions than whether a member's preferred physicians participate in the plan. While cost and plan availability are still the leading decision factors, a plan's digital features now rank as the third most important influence on plan selection. Payers' digital offerings need to reflect the value members put on them. We have been tracking this metric since 2016, when just 14% of members said that a plan's self-service and/or communication options were important to their buying decisions. That figure has since more than doubled.


Members are emphasizing wellness and show continued willingness to share their health data from wearables. Even healthy members will engage with payers who offer strong wellness management features. Healthy plan members rarely interact with their payers. Offering high-quality app-based health and wellness features should help payers build stronger, stickier member relationships. Help with meal planning, interpreting sleep results, tracking calories and making sense of wearables data would enable regular interactions, fostering member loyalty and retention.


Digital capabilities that make transactions seamless across payer and provider lines are becoming important to members. From making appointments to estimating costs to paying providers, plan members want to manage their healthcare business from a single app. Complying with the No Surprises Act and Price Transparency rules should create foundations for meeting member expectations for these features. Payers that use these regulations as springboards to go beyond compliance could build market-differentiating offerings.


Commercial, Medicare Advantage and Medicaid members have different priorities that will require payers to customize digital investments for these groups. Too often payers "customize" apps by shutting off or turning on features based on a member's login ID. True customization requires payers to understand the unique needs of their different member cohorts and design apps and workflows accordingly.


There's still plenty of room—and need—to grow members' digital adoption rates. Less than two-thirds of members say they've registered on their health plans' member portals or downloaded the plans' apps. A majority of members don't use email reminders or follow a plan's social channels. These members represent opportunities for payers to gain efficiencies by improving digital adoption rates.
To offer the digital capabilities members want, payers could build "health 360" super apps that make industry boundaries transparent to commercial plan members as they carry out health transactions. Apps that provide access to community health resources could appeal to Medicaid members, while condition management apps could appeal to Medicare Advantage members.

The digital tech behind those experiences can empower new business models and greater agility. Payers need those qualities to satisfy members and compete effectively as convergence and convenience transform healthcare.
To learn more, download the full report on our 2023 Voice of the Member survey or contact us to discuss opportunities to conduct your own member surveys, perform competitive benchmarking, or implement new apps and capabilities for members that can lead to competitive differentiation.
*We surveyed 2400 health plan members across 50 states; 59% were national plan members; 31% Blues plan members; and 10% regional plan members. Of these, 1200 were in employer group plans; 480 in Medicare Advantage plans; and 480 in Medicaid plans. Another 240 respondents were members of health marketplace plans.
This article was written by Monica Weekes, Vice President and Health Sciences Consulting Practice Lead at Cognizant and Jagan Ramachandran, Assistant Vice President in Cognizant's Health Sciences Consulting practice.
Subscribe for more and stay relevant
The Modern Business newsletter delivers monthly insights to help your business adapt, evolve, and respond—as if on intuition