5 ways to improve same-day delivery
Retailers are at the mercy of gig drivers, but we show how to boost acceptance and on-time rates.
In March 2021, DoorDash began offering same-day delivery—of Covid-19 test kits. It's truly a poetic tie-in, as same-day delivery took off during the pandemic as a matter of necessity.
There's no going back. Same-day will remain a standard expectation of customers for the foreseeable future. Speed of delivery, accurate communication about wait time, and execution of that timeline are now crucial factors in online purchases.
In one study, 52% of consumers said they'll be using same- or next-day delivery provided by retailers for their 2022 holiday shopping. And 42% are willing to pay more for locally sourced products due to the shorter delivery times required. So it's no surprise that globally, the same-day delivery market is expected to grow at a 21% compound annual rate, hitting $32 billion by 2028.
Gig drivers to the rescue—or not
To meet demand, many retailers have turned to gig drivers. These independent contractors help retailers end-run the high cost of expedited parcel delivery. Familiar names Uber, DoorDash and Instacart are some of the leading platforms that retailers contract with.
Typically, gig drivers can accept or reject a given order based on such factors as proximity, time required, and compensation. That gives them extraordinary power to make a retailer look good—or bad—with its customers.
Here's the problem: Just when consumers are demanding, and growing accustomed to, same-day delivery, retailers have been beset by uncertainties in the gig economy. Until recently, gig platform providers faced a driver shortage. While the major providers seem to be recovering from that shortage, they're still plagued by cancellations and long wait times. Owing to record-high gas prices and inflation, drivers' profit margins have been considerably reduced.
A changing world
Retailers understand that their world is shifting. In a survey of 500 enterprise retailers in the U.S., Canada and Europe, 99% said they'll offer same day delivery by 2025. But only 35% are able to do so currently; retailers face challenges with respect to their distribution network, disparate technologies and data visibility. Moreover, because last-mile delivery accounts for the highest share of overall logistics costs (about 53%), the new thirst for same-day, when combined with the need to control costs, is putting enormous pressure on retailers.
To address gig drivers' needs, and thus compete, retailers and platform providers need to make their delivery requests more attractive and profitable for those drivers. For their part, providers have turned to incentives (including cash bonuses) to lure and keep drivers. Uber and Lyft have added a $0.45 or $0.55 surcharge per ride. Uber is incentivizing electric vehicles, where incentives can reach a dollar more for a trip and up to $4,000 annually.
What retailers can do
As the following figure illustrates, we've created a process for evaluating a retailer's same-day program and suggesting improvements. Typically, the evaluation requires two to three months and includes a solution roadmap with a detailed benefit analysis.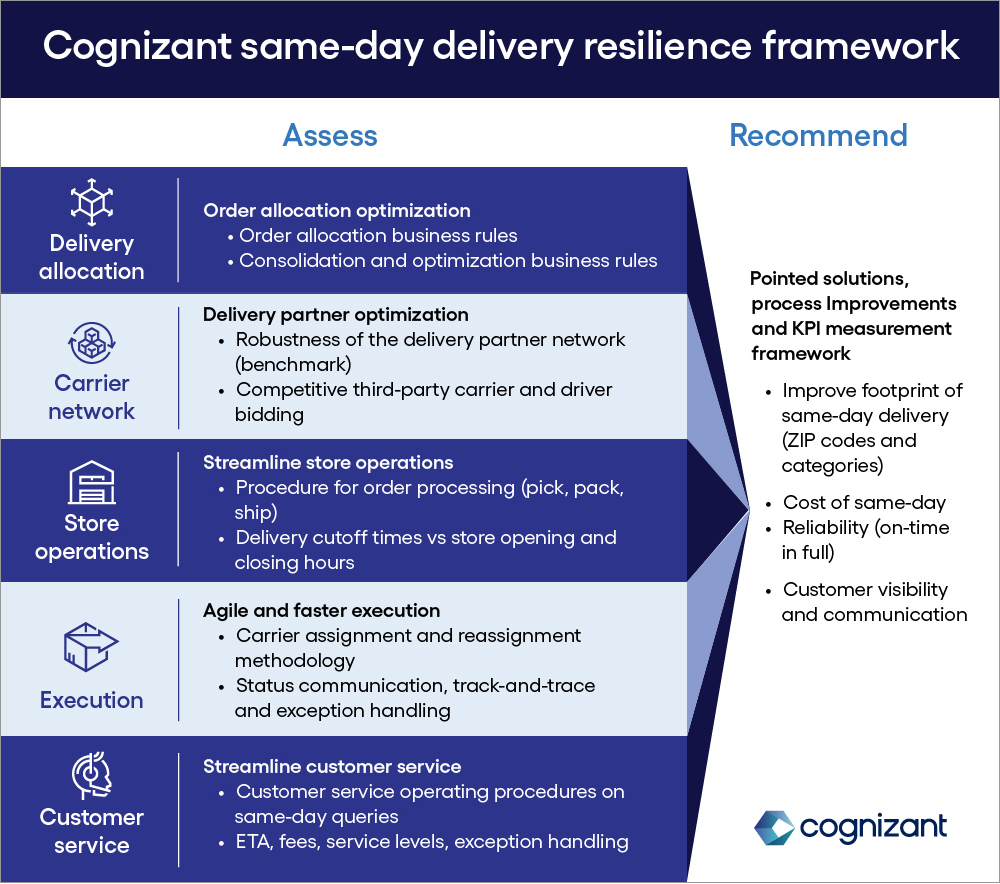 Figure 1
Retailers can attract the drivers they need, while reducing operational cost per delivery, through tweaks like the following:
Increase the number of orders per request. Gig drivers tend to accept delivery requests with more than one order per run; when batch size doubles from one order to two, our clients tell us, driver acceptance percentage rises 10% to 15%. Retailers should "batch" delivery requests three or four times per day rather than making each order an individual run.


Consider pre-tipping. Retailers can request that customers tip their driver at the time of checkout or after delivery. There are differing philosophies on how this impacts customer experience, but in today's world we recommend pre-tipping. Drivers are more likely to accept a delivery order when there's a tip attached in advance. Clients tell us their driver acceptance rate is 9% higher on pre-tipped orders than on those that are post-tipped, and on-time delivery is better by 5%.


Reduce drivers' wait times. Drivers prefer requests from retailers with lower wait times for at-store pickup. These times increase in stores in which the delivery request is sent before the order is ready, and when requests are sent close to closing time. To reduce wait times for gig drivers, and thus increase acceptance rates, retailers should send delivery requests only after orders are picked, packed and ready to ship. They should also develop same-day cutoff times based on their stores' opening and closing times.


Partner with multiple local companies. In delivery zones with sketchy driver coverage, we recommend that retailers have multiple delivery partners to increase their options and flexibility.


Reduce friction. Same-day delivery should be highly dynamic within a stipulated timeframe, letting customers make changes to routes and add or remove items. Customer service teams need tools and processes that support communication between customer, driver and internal retail team. In these ways, retailers can reduce friction and resolve issues faster.
Despite challenging circumstances, same-day is here to stay. Based on our experience with leading global retailers, we believe the solutions we've proposed will help retailers establish a resilient and robust same-day delivery solution that works for all stakeholders involved, including customers and drivers.
To learn more, visit the Retail section of our website or contact us.
This article was written by Srinivas Prasad, Consulting Director and Vigneshwaran Shanmugam, Consulting Manager in Cognizant's Retail and Consumer Goods practice.
Subscribe for more and stay relevant
The Modern Business newsletter delivers monthly insights to help your business adapt, evolve, and respond—as if on intuition