How digital solutions can help the critical infrastructure industry adapt to climate change
Digital technologies have the potential to enhance the resilience of critical infrastructure against climate change by improving adaptation measures. We explain four steps the industry should take.
A Victorian bridge in London wrapped in silver foil to keep it cool. Railway workers in China sliding massive ice blocks across tracks to prevent them from overheating. Melting runways shutting down airports. These surreal images from extreme 2022 heat waves in Europe, Asia and the U.S. offer a gloomy preview of what we can expect in coming years and decades.
Climate change is a hard and uncomfortable reality. Heat waves, wildfires, floods, droughts, abnormal snow, storm surges, and excess rainfall are having an unprecedented impact on the condition and longevity of critical infrastructure such as roads, bridges, railway tracks, airport runways, power plants, telecom towers, and utility networks. The World Meteorological Organization reports that between 1970 and 2019, the number of extreme weather events increased by a factor of five, while economic losses from those events increased sevenfold. The UN Office for Disaster Risk Reduction projects a further rise in natural disasters by 40% from 2015 until 2030.
In discussions about climate change, mitigation is usually the focus. But in addition to mitigating greenhouse gas emissions from the construction and operation of their assets, providers of critical infrastructure must develop effective ways to adapt to the changing climate. Wrapping a bridge in silver foil might actually be effective, but it is slow, reactive and not scalable. Innovative digital technologies can equip the infrastructure providers with effective adaptation tools.
Aging infrastructure assets have lower chances of withstanding today's climate extremes, and replacing them requires massive capital investment and long lead time to design, construct and operationalize. Moreover, these systems are complex, interconnected and interdependent; a failure in one part of the infrastructure chain can have a domino effect on other industries. For sustainable economic growth and social well-being, critical infrastructure must become climate resilient. Resilience is often seen as an adversary to asset performance, but this mindset needs to change; asset operators must balance performance with resilience.
Potential for digital technologies in climate adaptation
Risk assessment and diagnosis of critical infrastructure are traditionally built on periodic inspections and aided by conventional monitoring and analytics. This results in a slow decision flow not suitable for today's swiftly changing environment. To achieve higher resilience, infrastructure operators should adopt digital solutions for measurement, communication and computation to achieve automated, accurate and rapid decision making.
Continuous condition monitoring of assets at scale using advanced digital techniques such as LiDAR imaging, space-borne remote sensing and drone imagery are essential in predicting asset degradation. Such techniques can be both accurate and economical for such use cases as monitoring oil and gas pipelines, highways, long bridges, viaducts and tunnels.
These capabilities, paired with complex weather models and historical data, allow organizations to understand how changing climate patterns or extreme events like floods can accelerate the degradation of assets or even make them non-operational.
For example, with a forecast of increased rainfall, maintenance engineers can track changes in the flood plain on a map and combine that data with condition scores of roadways and railways assets to create a risk profile of affected asset stock. With such analysis, operators can take corrective measures and optimize the investments in their adaptation journeys.
Infrastructure service providers need to embed digital technologies across all four phases of resilience strategy and disaster management, as shown in the following figure.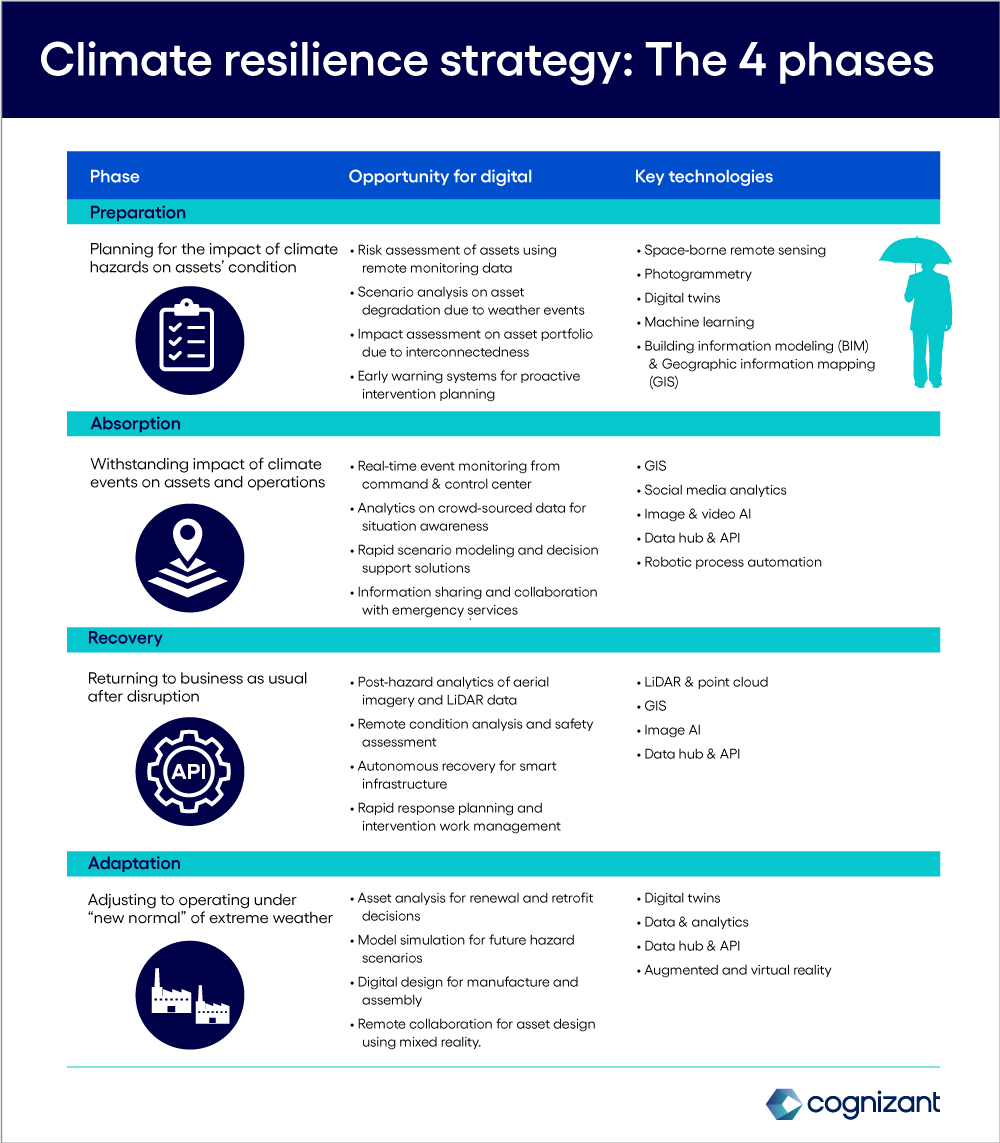 Figure 1
Here are examples of companies adopting digital technologies to prepare for extreme weather conditions:
A water utility company in the UK is exploring how it can use weather data to predict storms and model those storms' impact on their reservoirs so that they can proactively make decisions on preventive chemical treatments.


A rail infrastructure company in Europe is developing an intelligent weather services platform that will bring together weather and asset condition data to model risks on the network.


One of the largest electricity transmission and distribution companies has developed a digital platform that takes wind speed, direction, temperature and solar radiation into account to assess how efficiently overhead electricity lines dissipate heat to operate safely.


A prominent Nordic oil and gas company that develops offshore oil rigs is using 3D modelling, data and AI for jacket design, modeling against critical operational scenarios, ensuring that the design is efficient and resilient to storms and high-speed wind flow.


A Japanese railway company is using data and digital technologies to model safe operating conditions of tracks to revise design parameters. For example, the company has raised the tolerance limits of its tracks from 60°C to 65°C for all future manufacturing.
Toward a resilient asset base
Here are steps the critical infrastructure industry should take to develop a resilient asset base:
Complement your net zero strategy with an adaptation strategy. Most infrastructure companies are already working on a net zero strategy to help combat climate change and meet regulatory demands. They should also develop a comprehensive climate adaptation strategy to proactively prepare themselves, predict different scenarios, and minimize the unavoidable impact of climate change on their infrastructure portfolio.


Create a digital roadmap underpinning your adaptation journey. With the increasing role of digital solutions in net zero strategies, companies must develop and maintain a strategic digital roadmap that underpins mitigation and adaptation of business processes at scale. To achieve this, organizations should develop a scalable digital architecture that is flexible and interoperable. This architecture must adopt an API-first, cloud-based and modular approach that employs Edge components and can evolve with business needs by incorporating emerging and innovative technologies.


Make your enterprise data intelligence platform fit-for-purpose. Navigating from the legacy approach to infrastructure management into a data-driven intuitive approach requires a strategic enterprise data platform, which can bring together data from disparate asset management systems, enrich the data quality, and weave them together through a common information model. It must be robust and resilient to store and process high-volume data and must allow analytical modelling to simulate extreme weather scenarios, visualize risk profiles on maps, and prescribe interventions based on asset degradation profiles. While the data intelligence platform must be the engine that fuels the smart decision support solutions for the asset maintenance organization, it also must act as the foundation for R&D. Asset engineers should be able to experiment with asset and weather data, build innovative "predict-and-prevent" models, and rapidly scale them.


Evolve data sharing with your partner ecosystem. Root cause analysis of many historic disasters has shown that critical infrastructure failures could have been avoided, or their impact reduced, if the right data had been shared with the right stakeholders at the right time. Infrastructure companies will improve their climate resilience if they develop the necessary strategic data sharing platform to enable seamless and secure exchange of asset condition, weather risks, and mitigation plans with partners, emergency services, regulators, and the public. This platform, along with clear data sharing agreements, will enhance collaboration with partners to improve the accuracy of risk assessments; enhance emergency response; and expedite recovery to business as usual.
The infrastructure sector has historically suffered from information silos across the asset lifecycle and between stakeholders. Digital solutions can help companies not only break down those silos but move toward a resilient asset base. Evolution of digital technologies and solutions is bringing together the designers, architects, operators and maintenance engineers to store, manage and augment the as-built information across the asset lifecycle and collaborate to make better decisions to contain and recover from weather extremes in a sustainable way.
For more information, visit the Sustainability Services section of our website or contact us.
This article was written by Debroop Sengupta, Senior Digital Transformation Advisor in Cognizant Consulting, and Christina Rieke, Senior Sustainability Advisor in Cognizant's Sustainability Services practice.
Subscribe for more and stay relevant
The Modern Business newsletter delivers monthly insights to help your business adapt, evolve, and respond—as if on intuition