What's next for citizen experience?
Delivering basic information, products and services to a continuously churning and demanding citizenry isn't easy. But by rethinking experiences, revamping processes and rewiring IT across interconnected ecosystems, government authorities can raise the bar on how people interact and transact with them to become a destination of choice.
As access to government services accelerates across multiple online channels (i.e., private network applications, the worldwide public web, email, calls, etc.), citizens expect the same level of speed, flexibility, convenience and personalization as they experience in other aspects of their professional and personal lives.
Governments in Singapore, UAE, Canada, the UK and the US for some time (pre-pandemic) invested in digital innovation, customer experience and adaptation of design thinking techniques to smooth access to key services. However, success requires more than mere digital tools, techniques and methodology. It requires an intimate understanding of citizens, continuously identifying what matters to them most, and then adjusting service offerings based on their evolving needs.
Most importantly, governments need to embrace new ways of working — considering the end goal as a guiding principle — to drive the continuous and purposeful change citizens (both born digital and digital immigrants) now demand. It's all about creating meaningful, productive and intuitive citizen experiences.
Citizen experience actually plays a vital role in differentiating one government from another — from both a technology and human perspective. People have some choice regarding where they live, work and spend retirement. Take the UAE, where the government recently initiated a retirement resident visa that allows anyone in the world to come and spend their retirement life in the country. Therefore, government services provided online via the UAE are indispensable when it comes to not only attracting but fulfilling the needs of would-be citizens.
Delighting citizens consistently, whether they are in the country or engaging from the outside, is a tall order. Luckily, there is a blueprint for success. Here are the three strategies we have found that can help government institutions become a destination of choice for citizens, visitors and investors.
1.    Transform experiences
Experiences change minds, behaviors and lives. They help determine where an individual decides to work, live and raise a family. While there are universal needs such as safety and security, housing, medical care, education, mobility, etc., what matters most varies based on the preferences and lifestyle of each citizen. The best experiences create moments that matter going beyond functional and emotional needs by addressing citizens' latent needs.
How do you provide the best-in-class citizen-centric services and citizen-friendly policies to residents at scale? Are your citizens looking for speed, accessibility, simplicity or flexibility in your services? How do you understand what matters to them most in an evolving world?
Traditional approaches might not help shed light on those questions. Instead, government decision makers need to think big, create a collective vision, and bring an experience ecosystem (i.e., customers, employees, and partners) into the fold.
That said, transforming an experience takes time and effort. First, place the right skills and minds at the right place. Then, orchestrate citizens' experiences by applying the science of intimacy and the art of industrialization (see Quick Take below).
Intimate Yet Industrialized
To be able to transform citizen experiences, government authorities need both intimacy and industrialization — it's not either/or.
The science of intimacy starts with harnessing data from multiple touchpoints and sources to determine how citizens are doing. Contextualizing massive amounts of behavioral data with qualitative insights (i.e., service request data per channel, search data, engagement history data, support queries, service reviews, feedback, emotions, etc.) throughout the citizen journey allows decision makers to discover the "why" behind people's behavior. It helps to deliver a personalized experience, thus persuading citizens. The next step is to apply Agile design principles to generate, prioritize, test, iterate, and implement resulting ideas to understand what delights citizens the most.
One example: The Roads and Transport Authority (RTA) in the UAE captures the emotions of citizens from a variety of sources, such as social media, websites, applications, etc. It then analyzes the data using natural language processing (NLP) methods to identify customer needs. This shows decision makers where to focus improvement efforts, and identifies opportunities for developing new products and services.
Getting this right opens the door to industrialization — driving scale, speed and dexterity to quickly adapt to changing expectations at scale across contexts, channels and time is what we call "orchestration." Industrialization is effected by connecting your organization's datasets to customer touchpoints.
We recently engaged the biggest public procurement organization in Europe in accelerating a digital transformation plan that places the customer at the heart of every service it offers. After partnering with the client team, we captured and analyzed massive amounts of data (i.e., interactions, requests, personas, comments, complaints, etc.) to understand the "why" behind customers' behavior. Then, our team developed a prototype and MVP with inputs from user research, service design, content design, technical architecture and development. Following Agile best practices, we then built a scalable and user-friendly platform, providing the client's customers with a more informed and streamlined buying experience throughout their procurement journey, as well as reducing the cost, time and effort invested by its customers.

2.    Reimagine processes
As noted in our report, "How Digitally Modern Processes Make Great Experiences Processes," behind every "great experience" are processes conditioned for simplicity — processes that are intelligent and seamless, and that minimize how work gets done in the background, to the point that the work becomes nearly invisible. Processes are what transform resources — such as people, technology and data — into powerful experiences. They are at the core of every organization.
Processes could be a combination of people, tools and machines that drive a hoped-for outcome. Imagine applying for a residency visa, getting a vaccination, registering your new-born child, etc. Likewise, when a new service is launched on an existing system, citizens expect that processes will be adjusted to address their evolving needs.
Imagine a new visa process launched by a government authority that involves external parties such as ministries, embassies, airports, airline companies, on-ground service providers, etc. It's crucial to ensure that the process to acquire the new visa is adhered to and smoothly connects all ecosystem parties. That's not easy given how complex and time-consuming continuous process transformation is in a multiparty transaction.
To adjust processes rapidly — and at a large scale — government institutions must embrace agile, adaptable and intelligent methods that are fluid by design — i.e., that learn, anticipate and act (see Quick Take below).
Fluid — Not Steady — by Design
Intelligent processes help organizations work faster and operate with greater agility for the express purpose of helping users get things done quickly and smoothly. Such processes need to be smart enough to act swiftly if something new needs to happen and to instantly communicate with involved parties.
To do this, organizations should orient processes around fresh inspiring journeys that simplify inherent complexity, and consistently embed data and insights — thereby creating systems of intelligence that proactively sense, learn and act, instantly. They should be dynamic and aware — built for purpose — and apply AI to rules-based systems to enhance operational decisions.
We recently engaged with a government-owned petrochemical company in the Gulf region that complained of disconnected systems and manual processes that prevented its existing systems from helping users work productively. It also suffered from poor process synchronization and complex manual operations; dynamic user requirements, especially within its supply chain operations, were hard to address.
After conducting a feasibility study of our solution, we integrated various ERP modules and solutions, coupled with our complete warehouse automation solution. We also developed blueprints for supply chain management, via extended warehouse management (EWM) from ERP and RFID solutions from other suppliers. As a result, our client achieved a 200% increase in plant efficiency after plant automation and a 30% increase in operational efficiency.
As the global pandemic revealed, we are not only technologically interconnected but interdependent. So are processes that involve people, technology and data; therefore, processes must become fluid by design and powered by data, insights and intelligence that allow government authorities and ecosystem players to be agile, fast and flexible.

3.    Modernize technologies
Technology is indispensable. It increases our quality of life by allowing us to access information immediately, get things done faster and more productively, communicate instantaneously, etc. That said, how well technology is threaded throughout an ecosystem — and embraced broadly by constituents — is critical to delivering sustainable results. Studies show that if citizens don't embrace it, technology fails to deliver the expected outcome.
For example, the "Smart City Index" — a tool that illustrates how all citizens' lives can be enhanced — sheds light on the importance of the adoption of technology as well as the value perceived by citizens within different countries. It demonstrates that to deliver a meaningful and productive citizen experience, technology must be engaging, interactive and enable bisynchronous communication. Another example is the GovTech Maturity Index, published by the World Bank Group, which captures the progress and maturity of digital government and uses "citizen engagement" as one of the key aspects for the analysis to identify good practices and areas for possible improvement.
So, what makes technology adaptable, valuable and scalable? It's a potent mixture of design, functionality, value and emotions.
Technology should be flexible, personalized and tailored for users' interests. Since the needs of citizens are constantly evolving, a technology foundation provided by government authorities should support and reflect the changes required by embracing ecosystem players — spanning government employees, regulatory agencies and, most importantly, citizens (see below).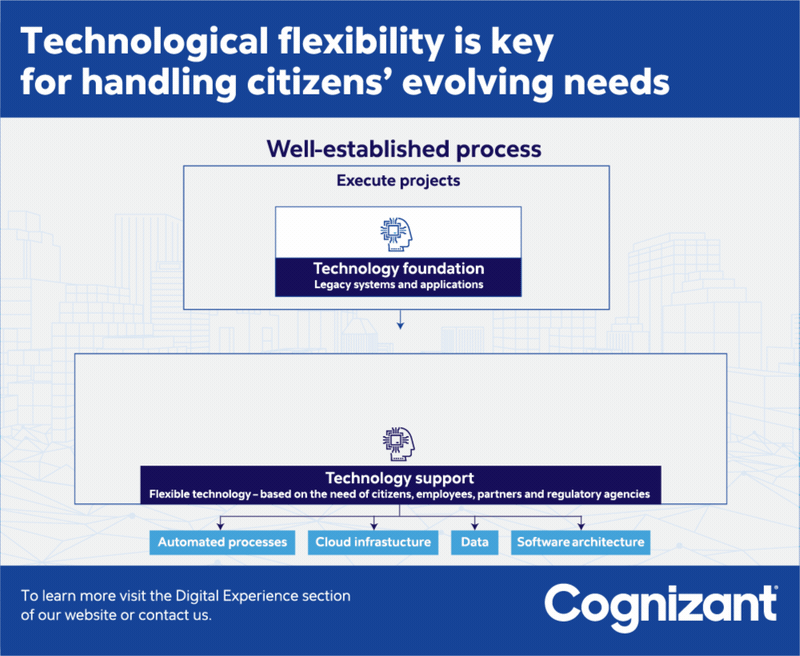 Flexible to the Core, not Legacy
Technology should evolve in sync with citizens' changing demands and needs. Accordingly, government authorities need automated and intelligent processes to capture data and analyze it faster. This requires a flexible software architecture and infrastructure that is adaptable to the core and provides operational and strategic value to organizations while satisfying the needs of citizens.
As we've seen in multiple client engagements, cloud solutions are a critical component to a modern and adaptable IT foundation. However, the cloud is more than infrastructure. If correctly harnessed, it can help unleash and speed innovation and new ways of creating value. Furthermore, the cloud keeps organizations constantly aware and responsive at scale by providing access to organizational data and insights, and analytics in real-time via smartphones and devices.
One of our clients — a leading European financial markets regulator — wanted to automate its managed cloud services, comprising cloud and security operations, and sought support for applications hosted in its Amazon Web Services (AWS) environment. After assembling the right team and solution approach, we provided holistic support to over 60 instances of infrastructure as a service/platform as a service (IaaS/PaaS) in the AWS cloud environment, with a strong security underpinning, to eliminate blind spots. We then added a governance layer to oversee the managed services model and improvements in customer service and transformation activities. Additionally, we provided robust support for applications hosted on the AWS platform. As a result, our client achieved significant cost savings through flexible customer support and automation and a 19% improvement in first-level resolutions. Importantly, customers benefited from fast and seamless service delivery.
It is essential to have a willingness from the organization and ecosystem players to unlock cloud technology's benefits fully. Cloud service providers (i.e., Microsoft Azure, Google, AWS, etc.), in conjunction with software as a service (SaaS) application platforms, require proper orchestration to deliver on the needs of both government agencies, employees, third parties and, most importantly, the citizens.

Embracing a modern way of working
Traditional government organizations aim to enhance the quality of life for their citizens, usually by providing affordable accommodation options, inclusivity, equality, etc. For this to occur, all parties need to break down departmental silos and establish roadmap initiatives.
However, organizations that embrace new ways of working — considering the end goal as a guiding principle — behave differently. Instead of "enhancing the quality of life" as a goal, they take it as a guiding principle and continuously consider it while drafting public policies or designing new government services. When they start a project related to experience, technology or processes to drive toward that goal, they realize that the objectives must morph as citizens' expectations change.
By adopting this working model and mindset, government authorities can provide services and policies that deliver desired experiences that continuously evolve — and are refined — to meet their citizens' evolving needs. As a result, they eventually become the destination of choice, because they satisfy their citizens, attract more visitors and, ultimately, drive economic growth.
Generating economic growth
A leading European air hub needed to increase productivity, cut costs and enhance the passenger experience; it also needed to uplift capabilities for better customer flow and demand predictions, react faster to flight delays and improve resource allocation. By embracing a more modern way-of-working model, our team analyzed over 30 core business functions and gathered intelligence from a large experience ecosystem — including air traffic controllers, civil aviation authority personnel, baggage handlers and cleaners.
We used this information to digitally model airport operations. We then helped our client to consolidate data and then to develop a cloud-based platform using Microsoft Azure. We also integrated a decision support system powered by AI to give management a 360-degree view of airport operations, flows and incidents. As a result, we delivered a digital platform that predicts today's demand in real time to minimize delays and maximize utilization while identifying future opportunities for additional improvements. This yielded $4.5 million in savings per year due to increased efficiencies, a 40% increase in peak check-in desk throughput and a 5% reduction in passenger delays, equivalent to 4 minutes per passenger.
People are the lifeblood of any government entity. Therefore, any government authority that applies our three strategies and places the new ways of working at the center of their DNA could become a destination of choice and generate economic growth.
This article was authored by Ismail Ozenc, a Service Line Specialist within Cognizant's Digital Experience & Engineering Practice. To learn more visit the Digital Experience section of our website or contact us.
Subscribe for more and stay relevant
The Modern Business newsletter delivers monthly insights to help your business adapt, evolve, and respond—as if on intuition