Utilities can de-risk the future by decoding operational excellence
By fully integrating technology and making continual improvements in talent management, the sector will be set to thrive.
Utilities face a whirlwind of change, including shifting regulations and evolving consumer demands. But it is energy transition—the ongoing process of replacing fossil fuels with low-carbon sources—that continues to drive the industry, with fully modernized smart grids on the supply side and retailers rapidly digitizing customer touchpoints. 
Moreover, the rise in distributed energy resources (DERs)—energy generation units often owned by consumers, such as rooftop solar panels—will fundamentally transform energy markets and utility operations. In some cases, this presents an existential threat to utility companies that fail to keep pace if consumers elect to self-generate electricity and bypass utility companies entirely. 
Experimenting with and deploying advanced and emerging technologies can be risky for an industry whose top goal is to keep power on everywhere. But it's only by keeping up with or staying ahead of this evolving market trend that utilities, regulators and customers can reap the full range of benefits available through a more distributed energy system.
Economist Impact Group research supported by Cognizant identifies the pain points the utilities industry is experiencing in a tumultuous and competitive market. Future-readiness lies in the connection points between the major investments now taking place: renewable and distributed energy sources, digital technology and the customer experience.
It's vital, then, for the utilities industry to proactively plan and invest in digital systems, an effective workforce and the business processes needed to accommodate a large amount of new distributed energy resources. This shift brings new challenges to the traditional pace and approach of the sector. 
Within the industry, leaders have begun to develop new skillsets and disciplines across their companies. Installing leaders from other industries to modernize workspaces is one indicator of the subtle cultural change taking hold. 
Leaders are also looking to create future success by harnessing data to make informed decisions, capturing and leveraging institutional knowledge, adopting business model innovation, and investing in the employee experience—in some cases looking to monetize data where feasible.
Proven tech tops the digital shopping list
Respondents were asked to identify the technologies and methodologies their business has adopted or is planning to adopt in the next two years. (Percent of respondents who have adopted or plan to adopt)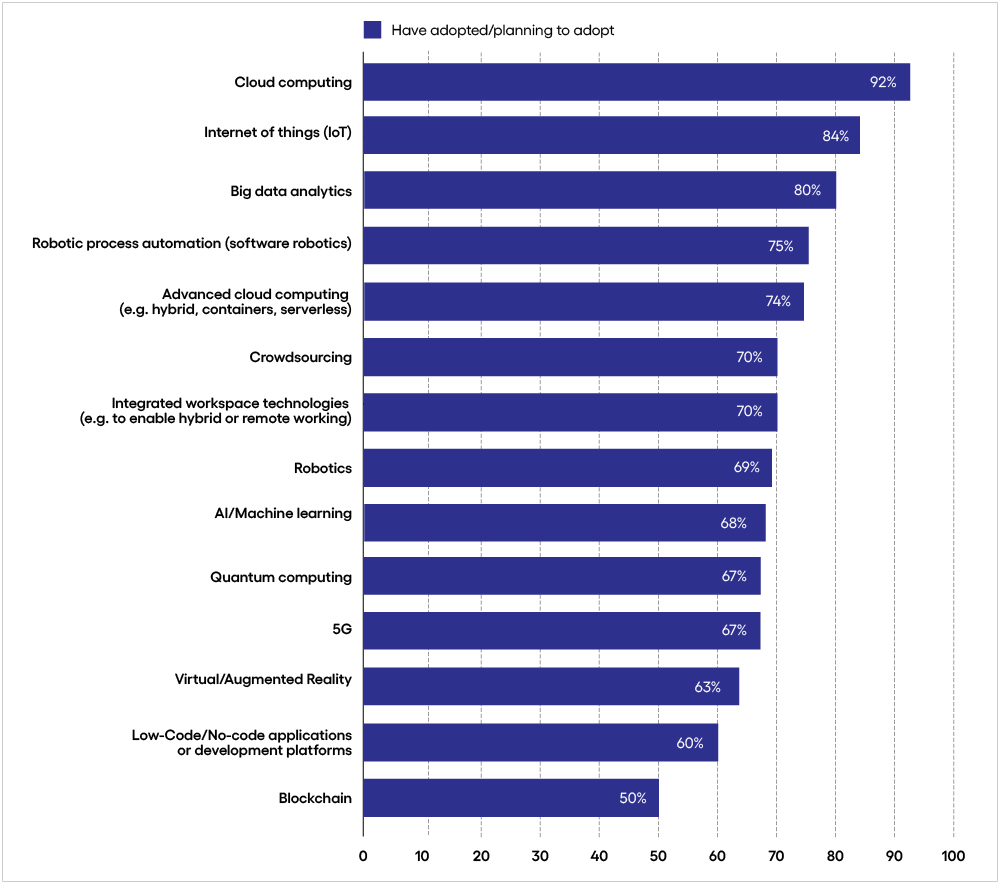 Response base: 250 senior utilities executives
Source: Economist Impact Survey 2022
Fig 1
What they're good at 
Reducing risk and supporting critical operations. With hyper-customized legacy systems dedicated to customer services and asset management, utilities are now focused on modernizing core technology to reduce risk and ensure ongoing quality of service.

Executives say they're adopting cloud computing (92%), Internet of Things (84%) and big data analytics (80%). The growing need to connect smart grids to customer systems is reflected in the critical need for cybersecurity to safeguard power supply.

In most cases, though, these systems are incapable of supporting now-critical customer demands and regulatory requirements—such as new rate structures and communication channels. Utilities will need to consider deploying front-end customer relationship management systems (CRM) with other information systems to adapt to increasing customer demands and an evolving energy marketplace.
Long way to go

Change management needs to be prioritized. The willingness and intent to invest in technology is formidable, but when large implementation projects get unwieldy and begin to run over established timelines, budgets and scope, the tendency is for skills and capability planning to be neglected.

Leaders share stories of implementing new technology only to see technicians and engineers using stand-alone spreadsheets and other habit-fueled tactics to complete and log daily activities. Worse still, many of these workarounds are kept offline, which limits knowledge transfer.
The importance of bridging the gap

Fully operationalizing technology yields true business value. Moving beyond an IT infrastructure and systems strategy that hinges solely on regulatory compliance or latent customer demands is still a work in progress. To pivot to long-term strategic investments in processes and people, utilities need to update their business case methodologies and key performance indicators (KPIs) to include activities that support technology operationalization.

It's when resources are dedicated to process change and tech is integrated into the human experience at work that the full value of advanced and emerging technologies can be realized.
Utilities chase productivity and supply chain insights
Respondents were asked in which areas their company is leveraging data. (Percent of respondents using data in each area)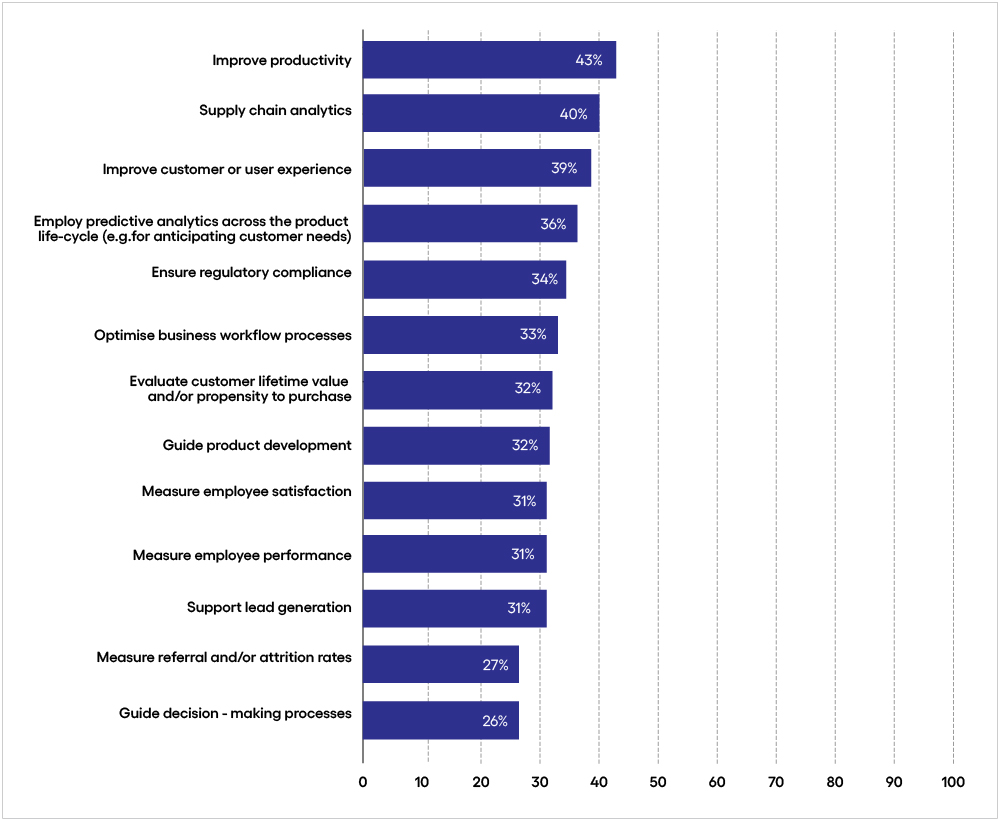 Response base: 250 senior utilities executives 
Source: Economist Impact Survey 2022
Fig 2
What they're good at 
Leveraging business analytics to enable productivity and performance. Under continuous pressure to constrain costs and drive predictability in supply and demand, the industry has focused its analytics efforts on worker productivity (43%), supply chain excellence (40%) and improving the customer experience (39%). 
Long way to go

Fixing and unifying data insights. Redundant and costly work activities result from inefficient workflows. Consider a distributor with independent business units that deploys drones to survey electric lines and identify necessary work orders. Each team (field operations, vegetation management, engineering, project management and work planning) may shape and execute work orders without informing the other groups.

As a result, the company deploys resources to inspect or walk the same power corridor multiple times, repeatedly producing the same information on a single set of assets. Sharing plans and data among teams will help reduce costs associated with these redundant activities.

While the industry is collecting unprecedented amounts of data and has made remarkable progress in using data to optimize business workflow processes (33%) and guide decision-making processes (25%), there's room to do more with available data.
The importance of bridging the gap

Using data-driven decision-making to unlock strategic business value. To be truly future-ready, utilities need to make data a strategic asset across the business. The ability to organize, manage, leverage, monetize and protect shared information is an integral discipline that requires the blending of complex legacy systems, advanced technology, modernized processes and evolving customer expectations.

Leaders will see promised gains in productivity, efficiency and cost savings emerge when unified data views are configured to unlock competitive advantage.
Utilities leaders must do more to cultivate talent
Respondents were asked which of the following initiatives to support talent cultivation they have implemented in their company. (Percent of respondents taking action in each area)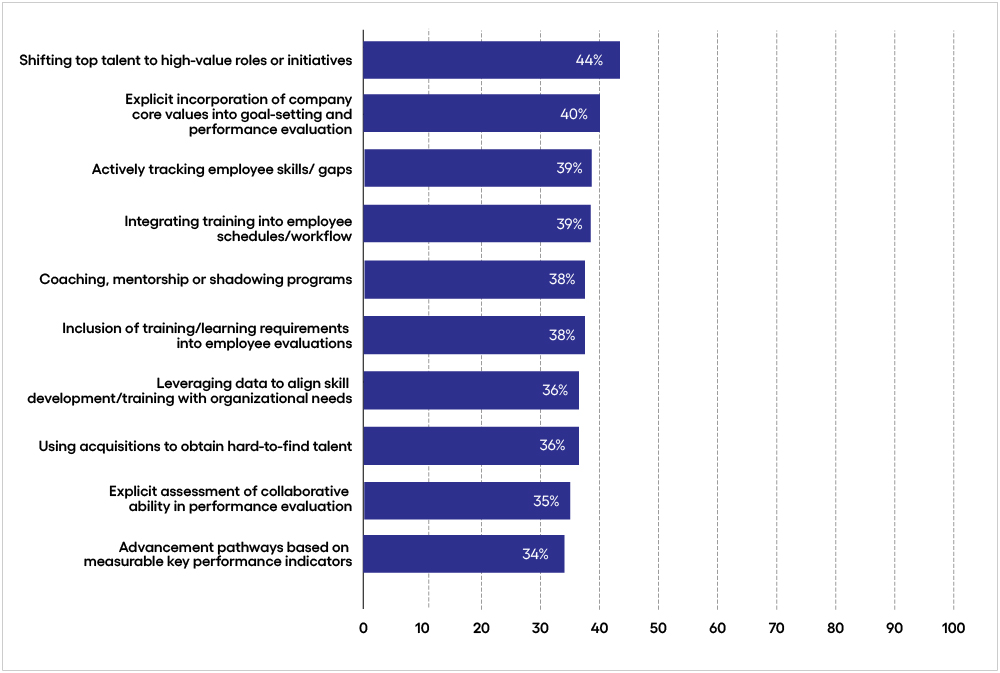 Response base: 250 senior utilities executives 
Source: Economist Impact Survey 2022
Fig 3
What they're good at 
Engaging talent when they see it. Nearly 44% of utilities leaders say their business works to shift top talent to high-value roles or initiatives. By doing so, they can develop and engage employees and furnish them with new skills and capabilities.

Additionally, 40% of leaders explicitly incorporate company core values into individual goal setting and performance evaluation. Such alignment provides clarity to individual workers and prepares a pipeline of future leaders.
Long way to go

Many best practices are left on the table. Although utilities players tend to be risk-averse, there is opportunity to incorporate known, tested and proven talent management best practices. Just one-third of leaders report using advancement pathways based on measurable KPIs, and only 36% use talent data to align skill development and training with long-term future-ready needs. Preparing for future excellence is compromised when potential skills gaps and knowledge are unknown.
The importance of bridging the gap

An aging workforce risks a talent stall. Utilities could be a premier career destination for top talent in the face of a retirement brain-drain, the pressing need for product and service differentiation, and long-term pressures from climate change. To become future-ready, utilities should reposition the organization as a destination for the most collaborative, purpose-driven professionals in early- and mid-career stages.

Competitive compensation packages, refreshed job descriptions, tailored career development, and improved skills and performance measurement will create an employee experience that can attract and retain a skilled, committed workforce.

Yet, this is no simple task for an industry constrained by a tight labor market and the need to balance forward-planning with the peaks and troughs of demand cycles. With a keen eye on overall efficiency—to boost business resilience through economic cycles—leaders must rethink job functions entirely, especially tasks that are costly, inefficient or can be automated.
Fit for the future

The future for the utilities industry is full of opportunity. To capitalize on these opportunities, senior leaders must take steps toward updating mindset, culture and values—with a focus on how work gets done and who completes it. 
While the vision for the utility of the future varies in different regions and regulatory jurisdictions, it's clear digital technology plays a pivotal role, whether through investment in advanced distributed-system automation and smart-grid technologies, or by modernizing customer engagement by deploying front-end CRM systems. 
Savvy leaders, then, will work to build proactive digital transformation strategies that make the most of their existing and planned investment in technology.
To learn more, visit the Modern Business section of our website or contact us.
The views and opinions expressed in this report are those of Cognizant and do not necessarily reflect the view and policies of Economist Impact. Data presented is from an Economist Impact executive survey, commissioned by Cognizant, conducted in early 2022.
This article was written by David Cox, AVP, Head of North America, and Maciej Panszczyk, Senior Director, in Cognizant's Energy & Utilities Consulting practice.

Subscribe for more and stay relevant
The Modern Business newsletter delivers monthly insights to help your business adapt, evolve, and respond—as if on intuition