Three ways to boost healthcare in future-ready cities
Cities must deploy citizen-focused public health initiatives, powered by digital technologies, to meet their future-readiness goals.
Cities are economic powerhouses, offering residents access to higher-quality healthcare. But the urban environment also takes a toll; city dwellers suffer higher rates of myriad health problems, from cardiovascular and respiratory disease to depression, psychosis and generalized anxiety disorder. Rapid urbanization has heightened the need for inclusive and livable cities.
It's not surprising, then, that in recent research—conducted by ThoughtLab and co-sponsored by Cognizant—almost 90% of 200 city officials from around the world said they included health and safety in their action plan for future-readiness. Alarmingly, though, only 49% say they've made good or very good progress in this area. (For the full study on future-ready cities, see our ebook.)
The good news is that widespread adoption of digital technologies offers cities an opportunity to transform public health. And the work cannot stop there. Urban planning must put health front-and-center to create more equitable societies designed for walkers and cyclists and with green spaces within reach of all.
The state of health in cities today
Public health, including mental health, is a key challenge for cities; 61% of local officials in our survey called it one of the main challenges they will face in the next five years, second only to climate change. Despite mass vaccinations, healthcare systems remain strained following the COVID pandemic. In Europe, for example, excess deaths are 10% above expected levels. Surprisingly, however, while 49% of citizens said their cities need a major transformation of "living and health" to become future-ready, only 13% of local officials concurred.
High levels of inequality have been associated with poor health outcomes. This is true even when technology is deployed. In the US, for instance, vigorous expansion of telemedicine over the last two decades has been found to remove geographical barriers to care—but not so much social ones.
Growing urbanization and demographic change are creating additional challenges. As the rural poor become urban poor, they encounter easy and cheap access to unhealthy foods and beverages. As a result, they often struggle with problems such as obesity, under-nutrition and micronutrient deficiencies. In much of the world, they also face dangers associated with inadequate access to sanitation.
Another substantial, and growing, challenge for public health in cities is an aging population. People over 60 are the fastest growing segment of urban populations. This means cities need to factor age-friendliness into their plans and promote healthy aging.
Addressing these challenges is key to developing future-ready, healthy, livable cities. This can only be done when people are put front-and-center of all initiatives, creating communities of healthcare that involve social groups, governments and the private sector. The road to success includes three crucial steps.
1.    Capitalize on digital
City governments and healthcare systems and providers understand the power of data and digital technologies to improve health outcomes, but many have done little more than dip their toe in the water. Now is the time for cities to embrace a profound digital revolution in their approach to healthcare. Numbers point toward a shift in this direction—69% of surveyed officials say they will prioritize the provision or expansion of telehealth services (see Figure 1).
This desire is reflected in cities' technology priorities, which include key enablers of virtual care. Nine in 10 local officials identify automation as a key technology to their future-readiness plans, while 89% named artificial intelligence (AI), 83% mobile technologies and 75% cloud computing. When combined with the power of 5G and the Internet of Things (IoT), cities can lay the foundation for smooth delivery of remote care, as well as swift response to emergencies.
Top 5 health priorities
Q: Which of the following actions will your city prioritize over the next five years to improve how citizens live and stay healthy?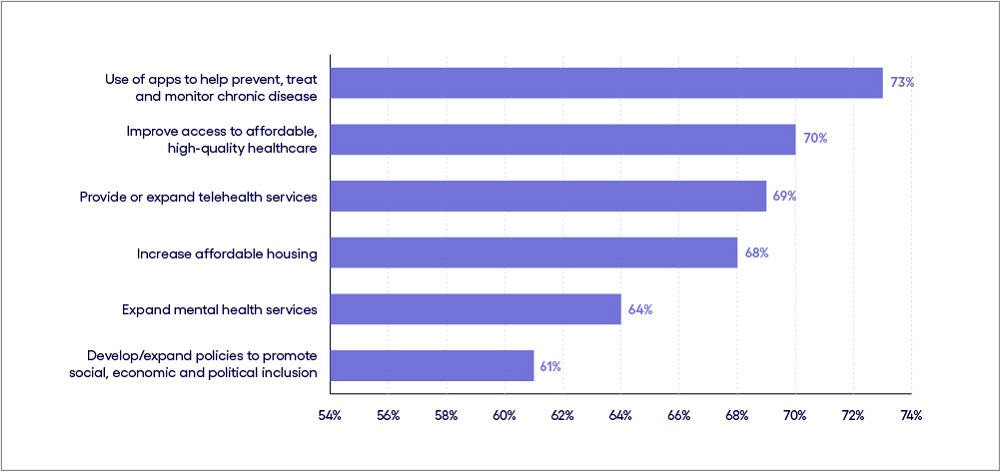 Figure 1
Source: Cognizant/ThoughtLab
Base: 200 city officials
An example of these technologies coming together can be seen in Bengaluru, India, which is setting up 27 virtual clinics at primary care centers. These clinics, powered by IoT-enabled medical devices and connected to a central command center via the cloud and high-speed broadband, will provide low-income patients free consultation on a wide range of health conditions.
Singapore, meanwhile, is leveraging its advanced digital infrastructure to provide services such as access to health records, bill payments, and IoT-enabled wearables that track patient progress and share data with health professionals.
These examples highlight how pervasive connectivity and digitization allow people to manage their own health better. Public and private healthcare providers can use digital technologies to vastly improve their services and extend them to people who currently have no or limited access to healthcare. City officials understand this; 73% plan to use mobile apps to prevent, treat and monitor chronic disease among residents.
Telehealth and other tech-based initiatives are only as good as the data they have access to. Here our survey reveals some alarming findings. Despite having several data-oriented initiatives in place, cities are struggling. Only 39% of local officials say their cities have made good progress in using data to achieve health-related outcomes—though 98% expect to do so in the next five years. Difficulties in sharing data contribute to the problem; only 45% of officials say their cities have a data management system that integrates data across departments.
This is critical given the fact that health data is not only growing in volume but is also being generated by new sources such as connected devices and wearables. According to one study, some 30% of the world's data is now generated by healthcare. That means cities must make sense of structured and unstructured data at scale.
Solutions such as cloud services, smart-edge-processing frameworks, a range of AI applications and advanced analytics can enable the integration of data from disparate sources. In the US, the city of Detroit, Michigan, was able to integrate siloed data across departments to accomplish several citizen-oriented initiatives—including analyzing data from multiple departments to identify vulnerable citizens and sharing 911 data with the mental health department to track and improve treatment of relevant incidents.
Data is essential to understanding not only people's and communities' vulnerability to specific diseases but also their socioeconomic status and physical environment. As research by the Kaiser Family Foundation indicates, the social determinants of health play an important role in health outcomes and health equity. A number of healthcare providers are developing tools to improve their ability to generate data-driven insights into this area.
For instance, in the US, the National Association of Community Health Centers joined forces with the Association of Asian Pacific Community Health Organizations, the Oregon Primary Care Association, and the Institute for Alternative Futures to create a protocol to help healthcare providers collect and act on patients' social determinants of health, which the Oregon Community Health Information Network used to create tools based on electronic health.
2.    Design urban spaces to boost health outcomes
Poor urban design and a neglect of areas crucial for quality of life and health have a strong detrimental impact. Conversely, lower noise, access to shade and clean streets have been shown to positively affect citizens' health and well-being.
According to UN projections, close to 70% of the population will live in urban areas by 2050, up from 55% today. But 75% of the infrastructure needed to support this surge is yet to be built. For urban planners, this is a golden opportunity to put public health at the center of their plans.
Many are aiming to do just that (see Figure 2). Importantly, 80% intend to increase public and private use of environmentally friendly forms of transportation in the next five years. The move to cleaner energy sources is also underway, with 48% of officials saying they have made excellent or good progress in this direction.
Public-service spending intentions reveal focus on health
Q: As your city prepares for the future, in which public-service areas will it materially increase spending and investments?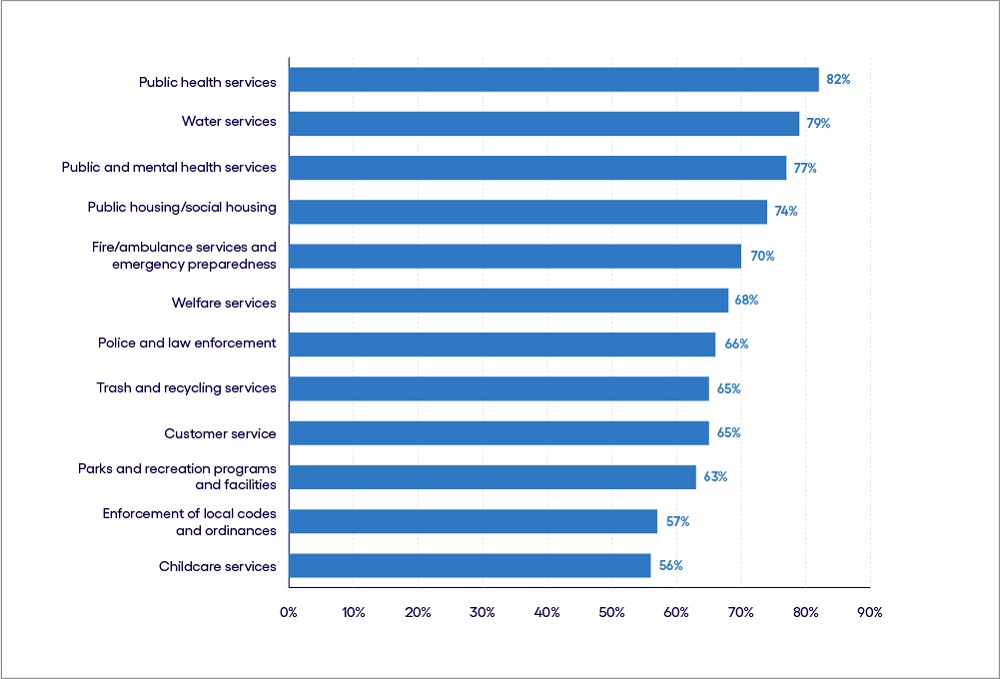 Figure 2
Source: Cognizant/ThoughtLab
Base: 200 city officials
Chengdu, China, illustrates how cities can combine smart urban planning and digital technologies to improve citizens' health and quality of life. The city is building a "green zone" covering 44% of the city in green spaces, and is creating a satellite city to address population growth, all while promoting low-carbon mobility and creating a tech-driven ecosystem that will help develop green innovation.
When it comes to identifying and responding to health challenges, urban planners need to focus on prevention. This means building infrastructure that encourages healthy lifestyles. The simple act of walking, for instance, has so many health benefits that it has been called the closest thing we have to a wonder drug.
Better health can also be designed into cities through "smart urban forests." Using tree monitors, imaging and IoT, planners can get a real-time understanding of the flora in their cities. The data generated can then be used to build self-sustaining forests that also replenish clean air and boost underground water levels. Several cities around the world, including Cardiff, Wales (UK), Melbourne, Australia, and New York, NY, are actively maintaining urban forests.
But poorly planned green space initiatives can set in motion "green gentrification" that results in the exclusion of lower-income groups from the intended health and welfare benefits. To avoid this, planning must be done in conjunction with the promotion of affordable housing. An encouraging example comes from Los Angeles, Calif., in the US, where local organizers are working with policymakers to ensure green space investments do not lead to displacement of the poor.
3.    Promote strong and inclusive communities
To improve health outcomes, it is critical that city officials focus on inclusiveness and equity. But while 61% of survey respondents acknowledge growing expectations around inclusiveness and equity, only 7% say they've made very good progress on this front.
One way to improve this picture is to promote social bonds, which have been shown to lead to better health and longer lives. Nurturing these bonds is a long-term process that local authorities and private-sector partners can support by focusing on community-led action.
Quezon City in Metro Manila faced extreme inequality and malnutrition despite being one of the most prosperous cities in the Philippines. At the peak of the pandemic, the city created a multi-stakeholder task force that integrated local food supply chains to get food delivered to those in need. This initiative addressed food insecurity and created employment.
Technology can also help promote social bonds. In our survey, 57% of city officials said they will prioritize local connection platforms over the next five years to help citizens meet others in their community. Such steps can go a long way toward creating connections that will strengthen local communities and promote healthier lives.
Digital initiatives are necessary—but not sufficient. To ensure the effectiveness of such initiatives, cities must encourage in-person interaction between citizens and the local government while exploring new ways of creating awareness. According to the survey, 71% of local officials currently use a combination of digital and traditional methods to engage citizens. Encouragingly, they also plan to increase the use of this and other methods (see Figure 3).
A multi-pronged approach to boost citizen engagement
Q: Which of the following actions will your city prioritize over the next five years?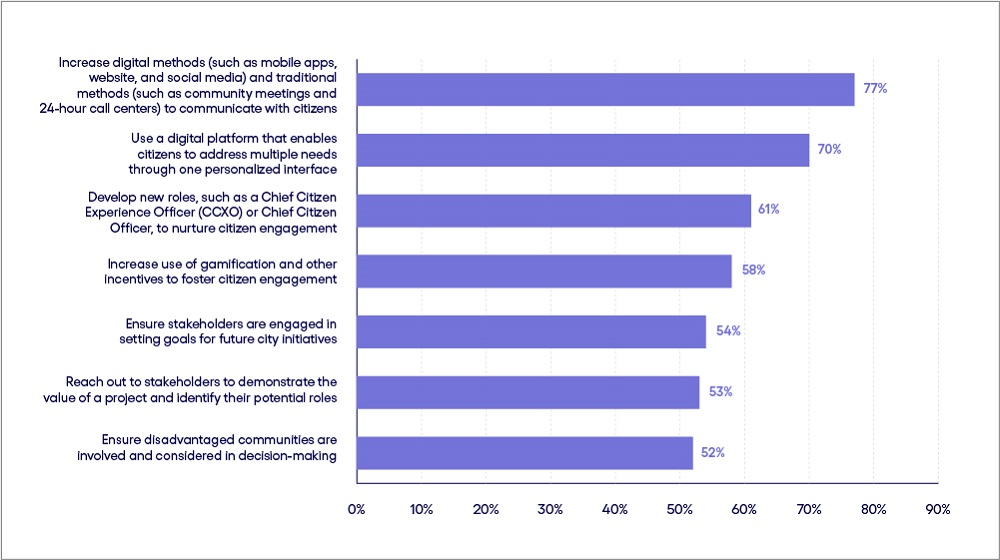 Figure 3
Source: Cognizant/ThoughtLab
Base: 200 city officials
Given the plethora of engagement options, it makes sense for cities to use those that will work best for them. San Francisco created a Civic Bridge platform to work with private-sector providers to bring online services closer to residents and address issues such as affordable housing. But sometimes digital needs to be mixed with analog. In London, local authorities at the Waltham Forest borough used media such as printed leaflets, email newsletters and online community meetings to boost citizen participation in shaping plans for the community.
Bridging the digital divide is another way to promote community. In the US, one study highlighted how socioeconomic inequities affected remote care delivery for those affected by the pandemic. It revealed that different groups (including older, female, Asian, non-English-speaking, Black, Latinx and poorer patients) faced difficulties in accessing telemedicine.
Despite the pervasiveness of digital connectivity, vast swathes of populations are either without access to high-speed internet or lack the levels of digital literacy necessary to use a number of tools. In our survey, only 36% of local officials said their investments in digital infrastructure have improved digital equity, although 67% claimed their cities will ensure access to affordable and reliable connectivity for all.
In an era in which digital tools are increasingly used to deliver and expand access to healthcare, addressing the digital gap becomes even more important. This means working toward universal access to the internet and ensuring that all citizens have at least a basic level of digital literacy.
Looking ahead
Thriving cities need healthy populations, and health outcomes result from a large number of factors. First-class healthcare is essential, but medical practices and hospitals will always be overwhelmed without smart use of technology to bring basic care to people where they live and work. Nutritious food, space for exercise, clean air and strong communities are all necessary to keep people healthy, and help them lead long, productive and satisfying lives.
The number and scale of challenges facing governments and their private-sector partners as they seek to improve health outcomes can be daunting. But by combining technology with human-centric urban design and policies, cities can usher in a new age in which exploding urbanization marries inclusive health.
This report was written by Akhil Tandulwadikar, Manager, Cognizant Research, and Eduardo Plastino, Director, Cognizant Research, with valuable support from Patricia Hunter-Dennehy, Vice President, Commercial, Cognizant; Sashi Padarthy, Assistant Vice President, Consulting; and Monica Weekes, Vice President, Consulting.
Learn more about how to use technology to keep up with changing customer expectations on our healthcare services page.
For the full study, see our ebook, "Beyond smart cities—to future-ready cities." 
Subscribe for more and stay relevant
The Modern Business newsletter delivers monthly insights to help your business adapt, evolve, and respond—as if on intuition