The perfect time for courageous leadership in NZ enterprise
Research finds that NZ rightly views itself as a global leader in technology and innovation, but challenges remain in future-planning and customer focus.
New Zealand enterprise leaders see themselves as world leaders in many key areas of technology adoption. There is still a long road ahead, but for those with the drive to move plans into action, NZ offers a powerful environment for business transformation that can create globally competitive businesses without breaking the bank.
As part of Cognizant's launch of local operations in New Zealand, we've taken a closer look at our recent global research survey, conducted in conjunction with The Economist, to see how NZ enterprise leaders see their adoption of technology compared to the rest of the world.
Reflecting on our relative innovation progress can be an important exercise. New Zealand tops the chart with most positive responses selected for these five tech adoptions –
Cloud Computing (92% positive responses)
Integrated Workspace Technologies (56%)
Advanced Cloud Computing (51%)
Low-code/No-code Applications (45%)
Robotic Process Automation (43%)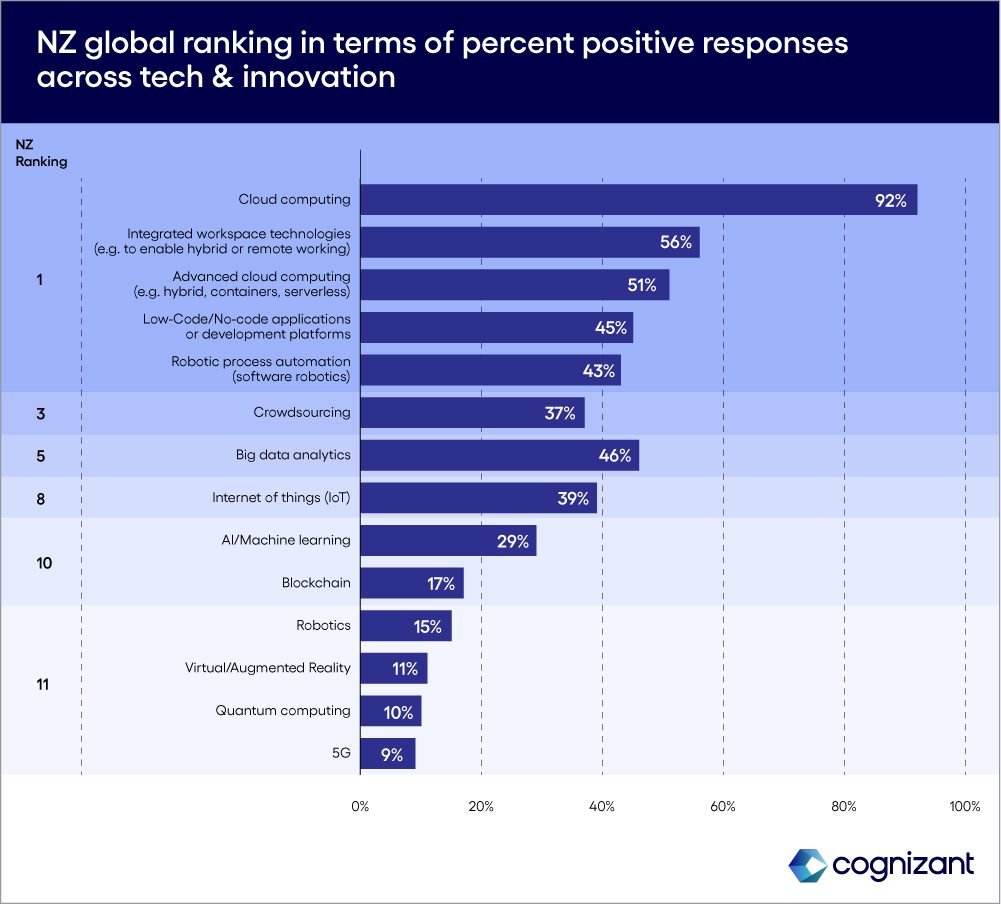 Source: Cognizant
Figure 1
What emerges from the data is a positive sense of the nation's progress on making the most of transformative technologies. In a self-reporting survey of 2,140 executives across 11 nations, the results show that New Zealand's senior management sees its adoption rates as some of the best in the world across a few key categories.
Outright world leading in adoption of:

Hybrid/remote work
Cloud computing
Low-code/no-code

Better than the majority of other nations in the adoption of:

Artificial intelligence
Advanced cloud
Leadership support for modernization
As the next figure shows, for questions related to innovation, New Zealand registers the most positive response of all countries surveyed for 11 out of 47 questions (23%). Results typically show little differentiation between the top three countries for a given question, but if we instead look to see how often each country falls in the top three, we see that NZ is well entrenched as a leading nation across four major themes: Talent (23% of questions), Innovation (19%), Environmental, Social and Governance, or ESG (15%) & Data/Insights (10%).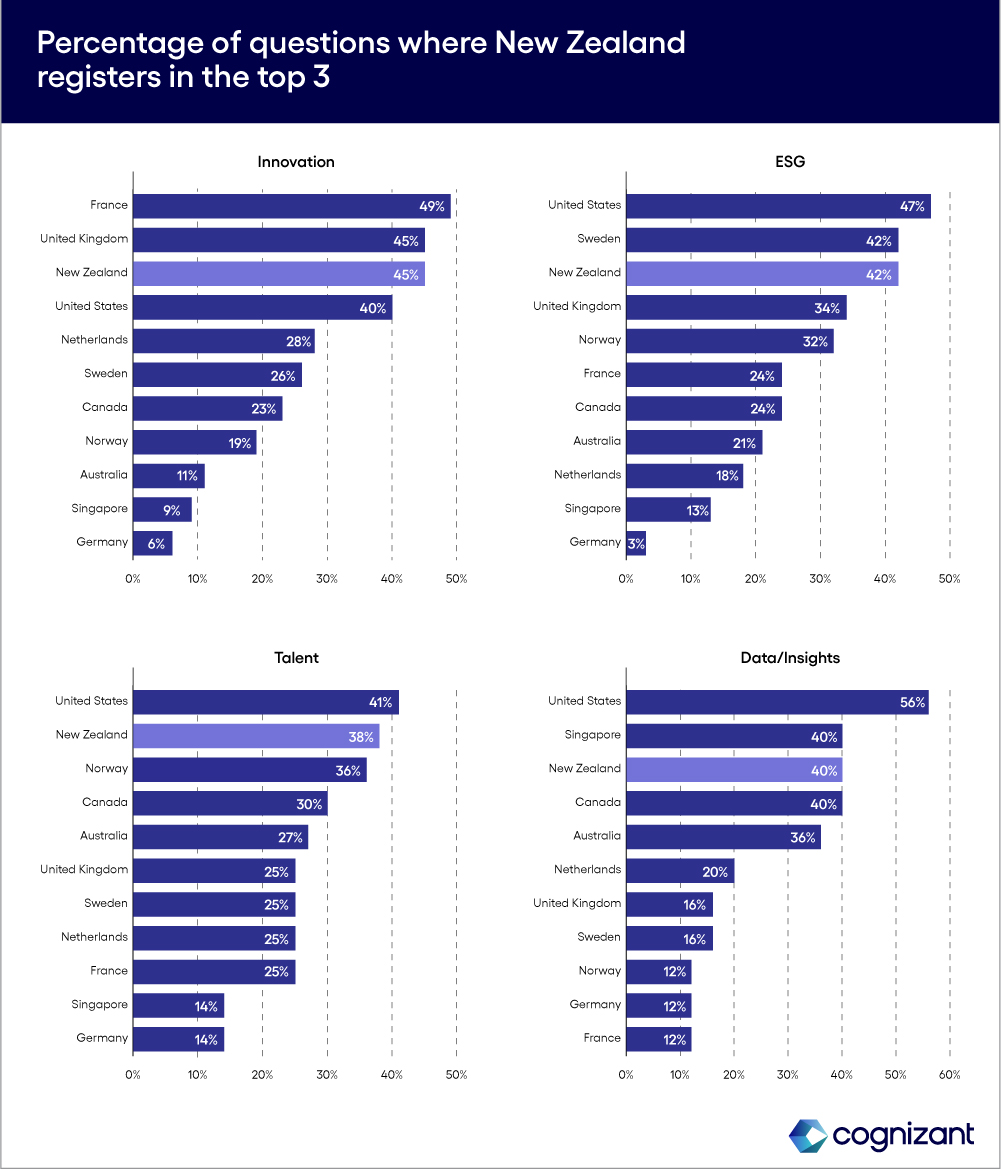 ** If the countries all had similar responses, we would expect each country to appear top three about 3/11 = 30% of the time. Countries that appear top three more than 30% of the time appear to be more positive than countries that are below 30%. New Zealand is well above 30% for all of these major themes.
Source: Cognizant
Figure 2
But there were other areas which New Zealand saw itself as behind the field when it comes to adoption of key technologies for the future of business or seeing itself with an average rating in an area where it may be regarded by others as potential world leaders.
Lagging other surveyed nations in adoption of:
Customer centricity
Near-future planning
Further analysis of the New Zealand responses on ESG showed they are rated in the top three of the 11 countries for 42% of the questions. Corporates in NZ strongly believe that ESG is important for them to be a modern business and advocate for environmental sustainability & social impact within the organization. They consider their company's accountability to society at large is institutionalized through both social initiative and day-to-day operations. Companies monitor the impact of their corporate social responsibility (CSR) initiatives as well as track the data on land utilization and waste/pollution produced from their daily operations. ESG is also an important criterion while selecting vendors and suppliers – key evaluation factors are underrepresented group classification, wages/fair trade/ethical trade and environmental sustainability performance.
With our official launch into New Zealand, our brand may be new in the local market, but our team of Cognizant experts includes veteran industry consultants who have been local to the New Zealand market for many years. With experience across public and private sector enterprise business technology implementation, we have examined this research and determined six important takeaways for leadership to reflect upon.
1.

    Successful self-reflection requires a wide perspective

While the positive sense of tech adoption speaks to a great deal of swift and successful action during the pandemic period, there are areas where New Zealand leaders may be overestimating – and underestimating – their progress.
Cloud computing adoption is certainly underway in New Zealand but viewed through a wider lens it is not ahead of the majority of the world in this regard. Meanwhile, reporting as 'average' when it comes to ESG speaks to NZ's progressive view that appreciates how much more needs to be done to achieve results on climate change. Compared to the world, the work being done by many NZ enterprises to use technology to assess impacts of waste and energy consumption should be seen as setting new standards for the world.
2.

    A long road ahead for cloud maturity
New Zealand has been successful in moving a lot of data into cloud platforms, but there is still a great deal of work to be done on maximizing their potential. Many NZ enterprises are still in a hybrid cloud approach that may lack a clearly defined path from a patchwork of disparate services to a true 'cloud right fit' and 'SaaS right fit' design.
3.

    NZ holds great opportunity for those willing to push further

Even large enterprises in New Zealand remain agile enough to achieve deep business transformations without billions in investment. Those with the courage to build and execute on well-defined plans can quickly create new levels of business flexibility while opening the door to advanced AI architectures to empower decision making for the future. This path requires balancing risk management with performing more aggressive pilot programs where real benefits can be measured and driving toward deadlines for shutting down old platforms to ensure new systems are fully adopted.
4.

    Technology and process transformation go hand in hand

New Zealand's slower adoption of customer centric business processes points to an important area of transformation. Achieving success in this area is about more than adding new technologies to an enterprise – it requires full alignment between new business processes and the technologies that enable them.
5.

    Technical debts must be addressed

For all the efforts to adopt transformative technologies, many businesses need to prioritize the removal of old technologies that impede the ability to gain the benefits of next generation platforms. Investment in such remediation work can seem like lost money, so vision is required to see what lies on the other side when these technologies are no longer in the way.
6.

    IT storytelling is critical to funding the next phase of transformation

After the initial stages of cloud adoption there is a need to help executives understand the path toward advanced cloud technologies and how they will add value to the enterprise. Many may feel that workloads and storage services that have been shifted to the cloud mean the business has 'transformed', while technical teams know there is more to be done to not simply be in the cloud but to embrace its full potential. To bring everyone's thinking together takes good storytelling on why ongoing transformation is required and what it will achieve for business processes and outcomes.

To learn more, visit the Modern Business section of our website, or contact us. 
The views and opinions expressed in this report are those of Cognizant and do not necessarily reflect the view and policies of Economist Impact. Data presented is from an Economist Impact executive survey, commissioned by Cognizant, conducted in early 2022.
Subscribe for more and stay relevant
The Modern Business newsletter delivers monthly insights to help your business adapt, evolve, and respond—as if on intuition