Say goodbye to the checkout line
Checkout-free systems are no longer a future thing. Here's how retailers can make the shopping experience fast, frictionless and checkout-free.
With a single click, you've purchased concert tickets. Another click, and you've booked a rideshare to the venue. On the way home, you'll grab dinner via a delivery app. Our digital world has conditioned us to expect near-instant transactions.
Yet in physical stores, that final click—the one at checkout—remains a friction-filled experience full of long lines, cashier errors, unreliable self-checkouts and other delays. This stark contrast between digital convenience and in-store frustration has made it obvious retailers need to evolve.
Once seen as a futuristic concept, checkout-free retail is approaching its breakout moment. From convenience stores to apparel shops, retailers across categories are piloting checkout-free technology. Industry analysts predict the number of stores leveraging this technology will swell from just 250 globally in 2021 to more than 12,000 by the end of 2027. Customers have also shown strong interest, with 70% of smartphone users in one UK survey indicating they would likely use this type of automated shopping experience.
What's essential for retailers to understand is that this innovation extends far beyond just removing long lines.

Checkout-free: increasingly a reality
In 2018, Amazon pioneered the "Just Walk Out" technology, allowing shoppers at over 23 locations to simply grab items and leave without the need to scan or pay.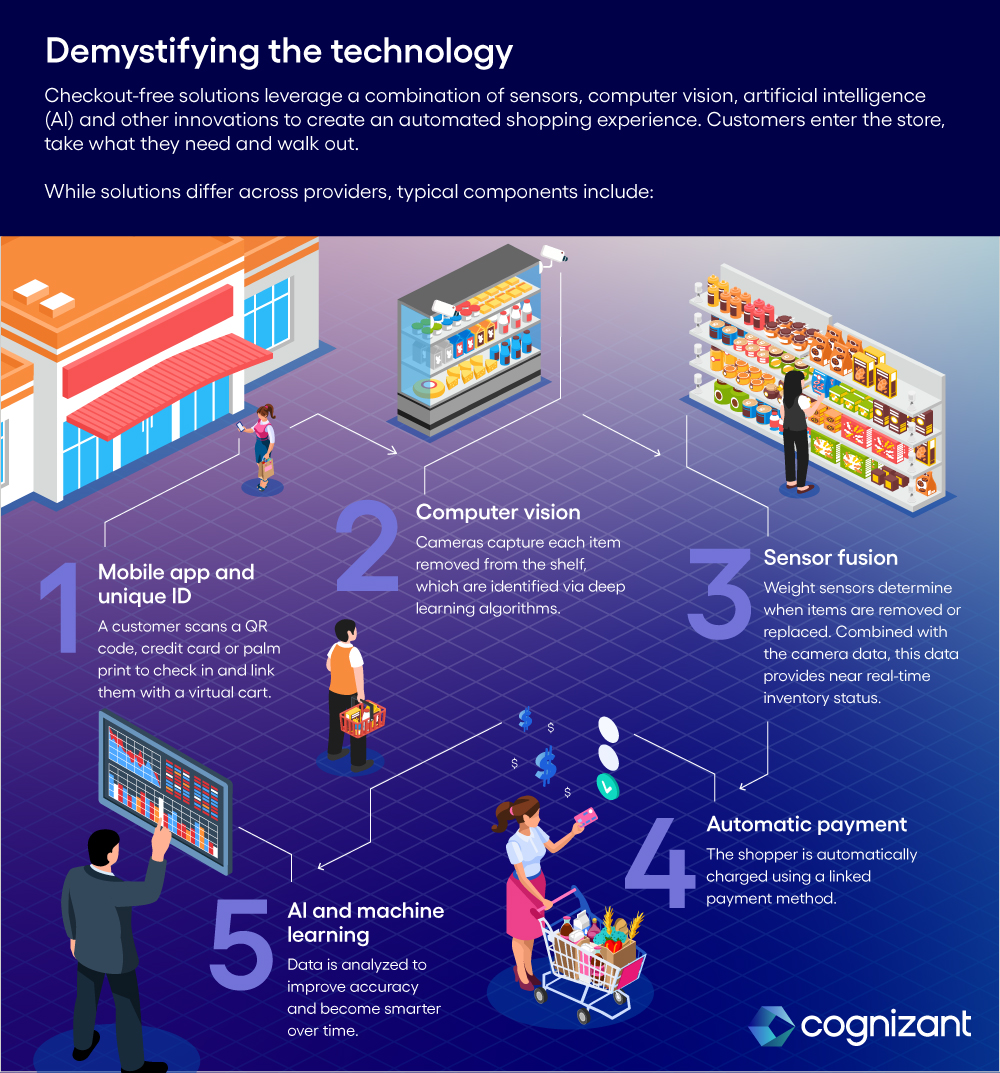 Figure 1
Walmart-owned Sam's Club has since followed suit, leveraging its Scan & Go mobile app to enable checkout-free shopping in select club stores since 2018. The app lets members scan and pay directly from their phones. Convenience store chain 7-Eleven has also piloted similar mobile checkout capabilities, allowing customers to scan items, check-out via a kiosk and exit seamlessly.
While early solutions focused solely on convenience and grocery stores, checkout-free technology is diversifying across other retail categories. Apparel and footwear bring unique challenges, as items are less uniform than packaged goods. However, computer vision and sensor capabilities continue to advance. Brands like Decathlon and Uniqlo are currently piloting checkout-free concepts for soft lines.
The expanding business case
These real-world examples demonstrate the growing business case for checkout-free solutions beyond just convenience and grocers. The key elements shaping this business case include:
Labor optimization: Cashiers can be redeployed to assist customers on the salesfloor, providing guidance and recommendations rather than simply processing transactions. This allows retailers to offer higher value services.


Loss prevention: Computer vision, sensors and AI scanners significantly reduce unpaid merchandise that walks out the door, whether through theft or honest mistakes.

Flexibility: Checkout-free solutions allow stores to operate with minimal staffing, enabling new models like 24/7 mini markets in locations like airports, hospitals and college campuses.


Customer analytics: Data from shopping trips, including shopper paths and dwell times, is used to enhance the retail experience and deliver personalized promotions through virtual carts or mobile apps. As customers enter the store, AI engines analyze this data to present timely and tailored offers.


Shrinking lines: Eliminating checkout pain points improves shopping efficiency, consumer convenience and brand perception. The easier and faster the shopping experience, the more likely shoppers will return frequently.


Brand differentiation: As more consumers look for seamless, tech-enabled experiences, checkout-free becomes a competitive advantage. It's a strong answer to the pervasive "retail apocalypse" narrative.


Sustainability: By removing paper receipts and product packaging from registers, checkout-free retail reduces waste.
Perhaps the most significant advantage is the preservation of consumer shopping habits. There's no need for shoppers to adapt to new technologies or alter their traditional buying patterns. The checkout-free ecosystem accommodates and enhances the shopping experience by recognizing and adapting to consumers' natural behaviors.
Implementing with impact
As with any burgeoning technology, the implementation of checkout-free retail necessitates a substantial initial investment. However, as economies of scale kick in, the solution becomes increasingly cost-effective. Retailers keen on venturing into this innovative landscape should contemplate the following strategic measures:
Initiate with modest pilots. Deploy a minimum viable product (MVP) in a handful of locations to facilitate iterative testing and learning before scaling up. Starting on a smaller scale also minimizes associated risks.


Target pilots at high-ROI locations. Prioritize pilot launches in stores grappling with theft issues or problematic queues. Other prime locations for trials include airports, educational campuses and hospitals.


Prepare staff for new roles. As cashiers and sales associates transition into more customer-centric roles on the sales floor, it's imperative to provide them with adequate training and support to excel.


Leverage mobile applications. Develop dedicated apps to gather valuable customer data for personalization and to enable advanced features such as scan-and-go shopping.


Promote the benefits. Actively inform consumers about the advantages of the checkout-free shopping experiences to stimulate trial and adoption. Messaging should highlight key benefits such as convenience and speed.


Forge strategic partnerships. Opt for partnerships with experienced technology providers to simplify deployment. Also, consider integrating solutions like Amazon One, which facilitates frictionless store entry via palm print or credit card recognition.
A checkout-free future
Checkout-free solutions represent retail's answer to creating stores that are truly competitive with e-commerce when it comes to speed and convenience.
Leading retailers understand that checkout-free solutions are about more than just refreshing physical retail spaces. They represent a reimagining of what brick-and-mortar commerce means in the 21st century.

To learn more, visit the Retail section of our website or watch our on-demand webinar on how Cognizant and Amazon can help you provide a unified commerce experience.
This article was written by Michael Sachar and Robert Johns from Cognizant's Industry Solutions Group, focusing on Retail, Consumer Goods, Travel and Hospitality.
Subscribe for more and stay relevant
The Modern Business newsletter delivers monthly insights to help your business adapt, evolve, and respond—as if on intuition