Retailers tangle with a new set of complexities to become future-fit
It will take a renewed push for data-driven insights, cross-sector partnerships and managing the talent shortage to carve out a path for the future.
In many ways, retail remains at the vanguard of digital transformation, sitting closest to changing consumer demands and with the lowest barriers to entry for disruptors. 
But nobody could have prepared retail executives for the virus-induced global lockdowns that confined shoppers to their homes and reduced physical trade to practically zero. These sudden new dynamics forced retailers to rethink how they could operate in digital-only, low-contact environments, and underscored the need for agility and resiliency. 
Now, the issues facing retailers are multiplying again. Even digital-native challengers are not immune to supply chain shocks and must reinvent themselves. Leading retailers are looking to expand their service offerings into other industries to engage with consumers outside of retail, such as banking, healthcare and manufacturing. This market convergence caters to consumer expectations for integrated cross-sector experiences (such as checking in with a doctor while shopping for groceries) and enables retailers to attract customers who would otherwise head elsewhere. 
Such profound diversification poses new complexities, spurring conflicting priorities and increased competition. In addition to tussling over market share with competitors, retailers are pressed to attract new talent pools to drive transformation journeys forward. 
Talent shortages have hit retailers particularly hard. Droves of shop floor workers have found new forms of employment or are simply looking outside of traditional retail opportunities after the tough operating environment of the past two years. Moving into other markets also puts retailers into direct competition for knowledge workers with industries that face different economic realities and, as a result, can pay more for the best talent. 
For retail, the future is far from certain. And in a cutthroat market, there is little room for failure, and even less for those who hesitate. Recent Economist Impact research supported by Cognizant suggests a tough road ahead for retailers, albeit a road peppered with opportunity, beginning with their technological investments.
Technology provides security in an uncertain world
Respondents were asked which technologies and methodologies their business has adopted or is planning to adopt in the next two years. (Percent of respondents)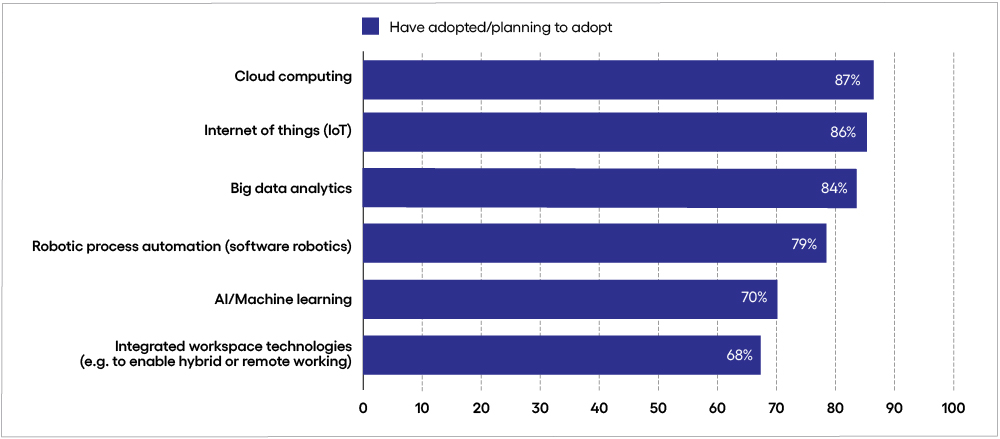 Response base: 250 senior retail executives 
Source: Economist Impact Survey 2022
Fig 1
What they're good at
Creating a robust technology foundation. Retailers are investing heavily in Internet of Things (IoT), cloud computing and big data analytics. For many, the focus is on the back office, as they look to manage their supply chains, boost operational agility in an uncertain environment and analyze financials.

Additionally, and with industry-wide recognition that staying close to customers is their life blood, retailers are increasingly leveraging these technologies to help them understand customer journeys and create new ways of personalizing experiences.
Long way to go
Making good use of all the data they collect. For leaders, then, understanding what to do with data generated by new technologies is fundamental to their success. From mapping front-end customer journeys to smoothing out complex supply chains, the sheer amount of data available is vast. Creating and organizing it is one thing but using it to tactical and strategic advantage in an ever more competitive environment is another issue entirely. 
The importance of bridging the gap
Technology convergence is key to meeting consumer expectations. None of the technologies that make up retailers' shopping lists will solve all the industry's woes alone. This is where the convergence of a number of different technologies collectively brings answers. For example, IoT, artificial intelligence (AI), cloud and other technologies combined can enable retailers to create smart shopping environments and personalized services.

Meanwhile, advanced cloud capabilities combined with machine learning ensure digital shoppers find the bargains they're looking for, or the item best suited to their needs. This is a vital step as consumer expectations around both digital and physical shopping environments grow.
Data is driving long-term planning
Respondents were asked to what extent their company's strategy prioritized the following areas. (Percent of respondents saying business-critical or medium/high priority)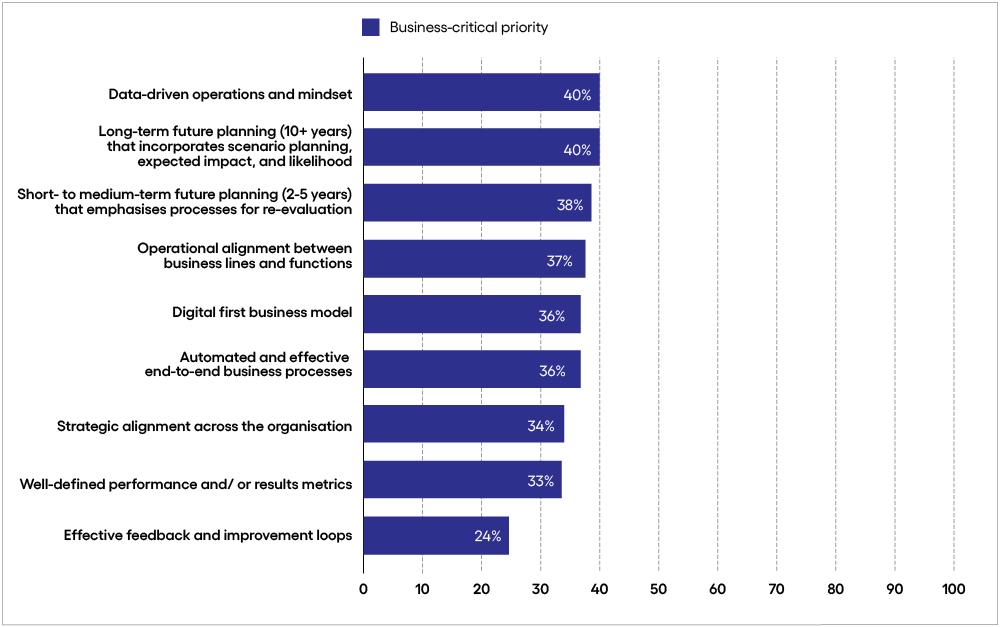 Response base: 250 senior retail executives 
Source: Economist Impact Survey 2022
Fig 2
What they're good at
Customer-facing is where it's at. Having long focused on the need to differentiate solely in customer-facing areas of the business, retailers are now looking at their entire operating model to provide stability for the future. As such, they see long-term planning and resilience as their primary business-critical priority.

For some, the driving force is to bring that all-important predictability to help support decision-making. For others, it is to uncover points of differentiation buried deep within their operations. But increasingly, the need to transform their model is tied to the push to expand into other industries and markets. 
Long way to go
Customer intelligence is the key to effective market convergence. This push for reaching into different markets hinges on understanding customers even more closely. To do this, retailers are focusing on becoming more data driven. Reams of data will be worthless, however, if the digital infrastructure does not exist to support and make sense of it. As such, retailers need to prioritize becoming digital-first as much as they do become data-driven; they must build a strategic pathway that gives data utility and focus. 
The importance of bridging the gap
The future rests on diversification. Transforming operating models, advancing digital capabilities, becoming data driven—these are not short-term goals. So, it's encouraging to see respondents acknowledge that long-term planning is critical. The concern, however, is that there's no holistic approach that brings the technologies, culture and talent together to achieve this.
Diversification brings other priorities
Respondents were asked to identify the most significant challenges their business faced when implementing new processes, services and technologies in the past year. Select up to five. (Percent of respondents selecting each challenge.)


Response base: 250 senior retail executives 
Source: Economist Impact Survey 2022
Fig 3
What they're good at
Customer intimacy is a primary driver. Retailers are aware of the multi-faceted nature of being a future-ready business, and where they stand out is in the intimacy between themselves and their customers. Taking advantage of this level of understanding may just help those businesses that are expanding into other industries differentiate themselves enough to succeed, but it also brings myriad other priorities they must focus on.
Long way to go
Reshuffling critical priorities. Traditional concerns around cost pressure, supply chain challenges and encroaching competitors are now fighting for executive mindshare with the additional issues of talent shortages, geopolitical crises and the looming threat of a recession. Governments are bringing in sustainability regulation, and consumers are both environmentally and socially more aware, adding environmental, social and governance (ESG) issues to tackle head-on. No wonder, then, that conflicting priorities tops the list of challenges holding back transformation efforts in the sector.
The importance of bridging the gap
The path to change is fast and multi-faceted. While retail executives will find little comfort in platitudes around the speed of change accelerating for everyone, they do have ample opportunity to turn their conflicting priorities into points of serious differentiation.

Take, for example, the topic of ESG. There are now more tools, technologies and approaches than ever to help retailers bring compelling solutions to market that tap directly into consumer demands. The truth for the sector is, it will never be an either-or discussion; players must move at speed to become future-ready by squeezing more value from technology, embracing data to power intuitive decision-making, addressing the talent crisis with innovative strategies, and making rapid meaningful changes that meet blossoming ESG demands from an evolving array of stakeholders.
To learn more, visit the Modern Business section of our website or contact us.
The views and opinions expressed in this report are those of Cognizant and do not necessarily reflect the view and policies of Economist Impact. Data presented is from an Economist Impact executive survey, commissioned by Cognizant, conducted in early 2022.

This article was written by Girish Dhaneshwar, Consulting Practice Leader, in Cognizant's Retail, Consumer Goods, Travel & Hospitality Practice, and Duncan Roberts, Senior Manager in Cognizant Research.
Subscribe for more and stay relevant
The Modern Business newsletter delivers monthly insights to help your business adapt, evolve, and respond—as if on intuition