The 4Rs to rethink travel loyalty programs
The new customer loyalty loop for airlines and hotels.
The pandemic has fundamentally changed how and why people travel. With business travel lagging 2019 levels by about 20%, and hybrid business/leisure trips increasing, it underscores that airline and hotel brands now need to rethink who their loyalty programs are designed to serve.
Once focused on attracting frequent and lucrative business travelers, programs have become broader, targeting a wider cross-section of people that includes leisure and hybrid travelers. As a result, the way airlines and hotels reward loyalty must not only evolve, but also expand to meet new needs and preferences. At the same time, the programs must continue to deliver value to the business.
We'll look at how airline and hotel loyalty is evolving, and suggest steps brands can take to use these programs to create long-term value streams.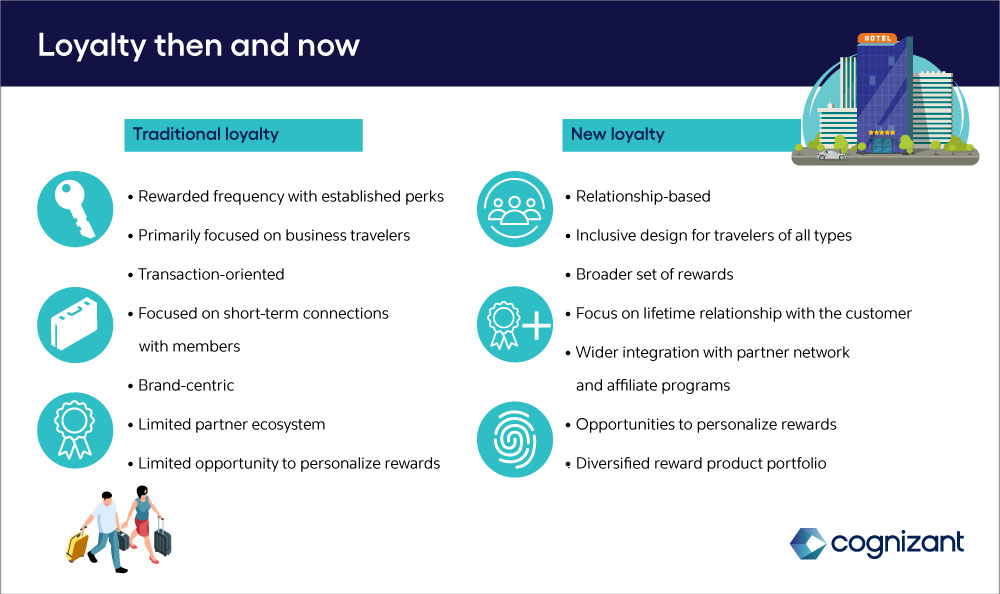 Figure 1
How the modern loyalty program is evolving
If airlines and hotels want to build loyalty among a broader set of travelers, they need to fundamentally change how traditional loyalty programs are designed, managed and monetized.
In the airline industry, we're seeing a shift to co-branded credit cards that reward people for any purchases made with that card. American Airlines has been an early adopter of this strategy, simplifying its AAdvantage rewards program so that members earn loyalty points any time they use a company-branded credit card. The benefit is two-fold: members earn rewards faster, while the company unlocks a new revenue stream through its credit card partner.
On the redemption side, hotels are providing more opportunities for guests to customize their rewards and are including a wider range of options, including some that can be redeemed instantly. IHG's new loyalty program, for example, lets guests choose a reward that appeals to them in the moment—be it free breakfast, food and beverage credit or lounge access. On the other hand, they also have the option of saving for a bigger reward later.
Transactions are out; relationships are in
While the goal of the modern loyalty program remains the same as that of the traditional model, the method differs. Brands today aren't singularly focused on trying to spur a purchase; they aim to reach travelers on a deeper, more personal level to build a long-time relationship.
Put another way, traditional loyalty programs were transactional, while the current version is more emotional. It's no longer solely about the economic value the consumer gives or gets from the brand. It's about whether the experience matches the consumer's expectations, wants and needs. For example, Alaska Airline's loyalty program includes a unique feature that grants new parents an extra year of Elite status. This forges a deeper connection with existing customers in the moment and likely strengthens their loyalty in the future.
At the same time, an effective rewards program must offer a range of benefits that will appeal to a wide cross-section of travelers. To that end, brands need to leverage data and technology to identify the correct value drivers for each member, and to personalize and promote the most relevant aspects of the rewards program. By understanding consumers and what matters to them, brands can build a relationship that lasts a lifetime.
In addition, brands should ensure that their data strategy extends beyond immediate transactions and direct monetization. For example, companies can use data to develop new insights about customer behaviors, motivations and preferences to identify gaps within the current program. Comprehensive data, when used in conjunction with artificial intelligence and other technologies, can also help brands evolve and personalize offerings more quickly and fluidly.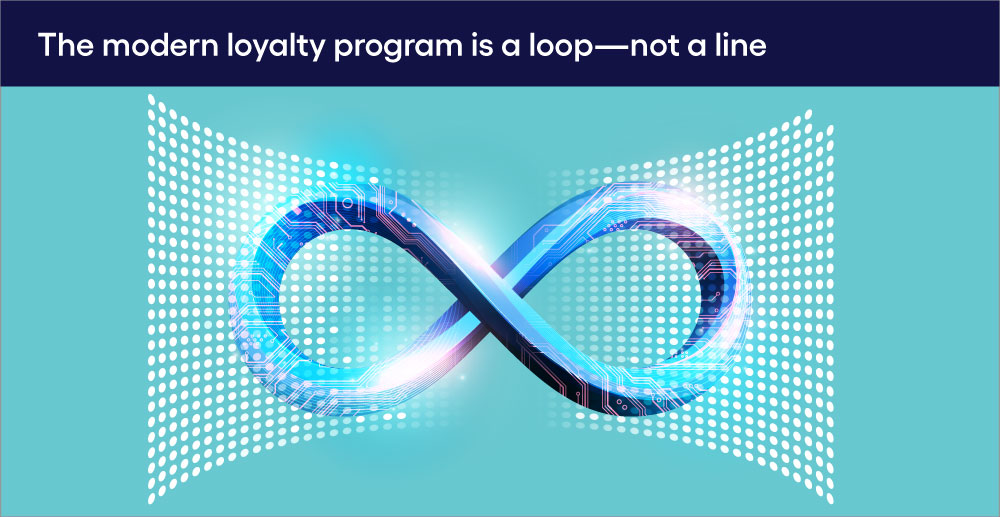 Figure 2
For many travelers, the brand experience begins with booking and ends with deboarding. Aside from travel time itself, the touchpoints are infrequent, limited to reminder emails and occasional update texts. What's missing is the personalization and personification required to build a true relationship.

To that end, airline and hotel brands should think about their loyalty programs as less of a line and more of a loop—an ongoing cycle that establishes the brand as a presence in the traveler's life and allows them to engage with the brand before, during and after a trip.

For example, brands can play a bigger role in the pre-journey experience by offering members exclusive access to content about their destination. They can also consider ways to lengthen the journey by offering travelers access to in-flight or in-room entertainment once they return home.
In hotels, if a guest prefers a certain special cocktail or beverage, the brand might share personalized instructions at checkout on how to make the beverage at home, so the experience continues beyond the doors of the hotel itself. Airlines can cross-reference the member's recent destination with similar locations they may find interesting and help them plan their next trip. As travel becomes more expensive, airlines and hotels can partner with banks or financial planners to help people understand how to effectively budget for that next big trip.
Disney is one brand that has been making use of this value loop model for almost a century. Beginning in the 1940s, the brand creator mapped an elaborate multi-touch consumer journey that was anchored by films and extended by theme parks, music, merchandise, comics, publications and more. This model was likely considered complex at the time, but today it serves as a good example of how a brand can effectively branch off from its core business to create a multifaceted experience. Disney is now reportedly considering a new Amazon Prime-style membership program that would offer customers discounts and perks. In doing so, the brand's primary goal is to create a program that encourages members to spend more on its streaming services, theme parks, resorts and merchandise—while collecting information on customers' purchasing habits by reviewing data about shows they watched, trips they took and merchandise they purchased to better understand their preferences.
In a value loop model, consumers come to see the brand as part of their lives—an integral piece of their long-curve plans—rather than a one-time service provider.
Best practices

Here are four best practices brands should embrace as they rethink their loyalty programs for the modern traveler:
Recognize: Know members better than they know themselves

Provide guests with a system that grows and flexes with them through their long-term travel journey. Give them the tools to build a relationship with a true travel partner, rather than simply completing a transaction.


React: Empower interactions in real-time

Create a happiness cycle with technology and tools that empower guests and staff. Whether guests are online or onsite, brands need to have the right digital tools to create a personalized journey.


Reward: Provide members with personalized and aspirational experiences

Increase the ways you reward loyalty by offering members the option to personalize rewards. Ensure that the program includes a mix of instant gratification and long-term benefits.


Retain: Move to virtuous cycles and integrated ecosystems

Shift to a value loop loyalty model that offers members relevant and timely ways to engage with the brand beyond the traditional travel period. Reconsider what assets the brand has that can generate new touchpoints with travelers.

If the past two-plus years have demonstrated one thing, it's that brands across all industries must constantly evolve to manage an ever-increasing level of disruption. For airlines and hotels, that means rewarding travelers who are loyal to the brand—and finding ways to build and strengthen relationships over time.

To learn more, visit the Travel and Hospitality section of our website or contact us.
This article was written by Emily Fridman, Strategic Growth Studio Leader and Matthew Robinett, Commercial Leader, in Cognizant's Retail, Consumer Goods, Travel & Hospitality practice.

Subscribe for more and stay relevant
The Modern Business newsletter delivers monthly insights to help your business adapt, evolve, and respond—as if on intuition