Cracking the code to software-defined vehicles
As software redefines the automotive landscape, OEMs must find balance.
The control system of a vehicle, once predominantly comprised of hardware and sensors, is quickly being replaced by electronics and software. This not only applies to core functionality but also to connectivity, testing, maintenance and lifecycle management. Twenty years ago, some of these areas were just emerging. Now, software is conducting the entire orchestra of vehicle design and ownership.
We illustrate software-driven mobility in three layers—inside, outside, and beyond the car—to help our clients understand its impact on operations and customer experience.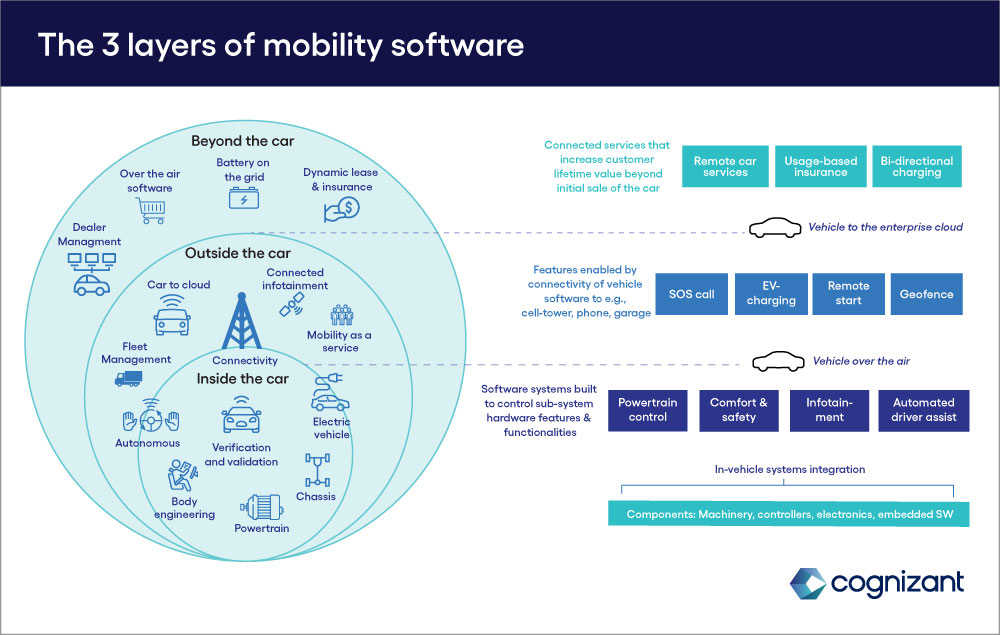 Figure 1
Inside the car, an electric powertrain brings with it software controls for all related systems, as well as digital cockpits and semi- or fully autonomous driving.
Connected systems are the bridge between the software inside and outside the car, enabling vehicle management and customization for consumers, as well as broader management capabilities for commercial fleets and the shared mobility sector.

And in a true ripple effect, the reach of software grows wider as it moves beyond the vehicle, affecting players in transportation-adjacent categories like insurance, urban planning, sustainability, advertising, health, and hospitality.

The software in each of these layers must be capable of interacting with various electrical components, mechanical components and sensors, all while maintaining data security and vehicle safety. This blend of requirements is highly specialized and industry-specific, creating a new domain for vehicle design and engineering. The need to manage this specialization, in one place and at scale, is pushing OEMs to broaden their ecosystems and demand more from players within those ecosystems.

The rising software complexity challenge

Today's software-defined vehicles run over 100 million lines of code, which—not unlike smartphones—must be regularly updated.
In vehicles, though, unlike smartphones, lives are at risk if an update is not properly written, tested and deployed. While consumer safety is a longstanding and mission-critical responsibility for OEMs, software-based systems drastically complicate this arena due to the volume and complexity of updates required.

Supporting and maintaining this ever-increasing amount of software is swiftly outpacing the ability to develop it, leading to a skill and talent shortage within OEMs and their Tier One suppliers.

Why is this complexity growing at such an exponential rate? Because mobility software is never used in a silo. There is an ecosystem of processes and parties involved:
Integrated testing and validation. Testing must occur for all possible variations of vehicle make, model, year and trim to ensure updates are performing with the minimum speed and efficiency on the software and hardware level. After all, software provides the command, but hardware will embody the result.

Testing must not only verify that the fix the update was written for is working properly among all possible vehicle variations; it must also ensure all unrelated operations function the same way after the update as they did before. Everything from safety lights, to alerts in the dashboard, to sensors for detecting crashes and deploying air bags must be addressed. Dedicated laboratories for this kind of hardware-in-loop testing are essential, particularly for sophisticated use cases such as advanced driver assistance systems and telematics.

Equally important is the need to maintain an audit trail of updates. Traceability of what features or changes are introduced by which update, and whether any issues subsequently arise, is necessary for compliance, as well as consumer protection and trust.


Connected solutions. Connected solutions introduce third parties into the software mix and, along with them, more requirements. Fleet solutions are a prime example. Operators want to know which vehicles are in which location, who is using them, at what speed, their fuel consumption, maintenance issues, and maintenance predictions. All this data must be aggregated and visualized into a dashboard, and each software update must maintain compatibility with such systems.

Insurance is another complex case using tools like onboard diagnostic trackers and mobile digital video recording to determine policy pricing and collect first notification of loss. On the consumer side, new apps and parties are continuously arising—charging stations, in-vehicle entertainment, innovative navigation solutions to balance traffic flows, and more.

With connected solutions rising in number and complexity, automakers should invest in a custom connected car platform to manage communications, E/E development for in-vehicle functions, and bespoke applications for user experience.


Digital and data security. Over time, automakers have relied on many disparate subsystems to achieve a fully operational software-defined vehicle. This creates myriad issues for code development and deployment, and also for security and compliance. Each new system, exchange, and connection creates millions of lines of code to test, debug and secure against cyberattacks. OEMs that are not running an end-to-end software management platform are increasing their risk for data exposure, as well as their workload.

It's clear why product lifecycle management for vehicles has never been more complex. With new vehicles being produced annually and needs for updates arising daily, finding a methodical way to support the development, testing, verification and traceability of these updates is mission-critical.

Scaling an automotive software enterprise
To address the complexity of the new automotive era, automakers must balance innovation, risk and reality. Their institutional knowledge and industry experience fosters a strong competitive mindset, but software expertise is required to bring these innovative ideas to life, monetize them, and safely manage them in a landscape where lives and data security are on the line every time a vehicle is on the road. OEMs must work with a wider ecosystem of partners, curated for their ability to complement existing talent and enable new business models.

The challenges and opportunities presented by software-driven mobility are roughly on balance. With the right network of partners, however, the opportunities tip the scales in a significant way. Those who embrace this spirit of partnership will shape the future of transportation.
To learn more, visit the Automotive Technology section of our website or contact us.
This is part 2 of a five-part series on the auto industry's future. Read parts 1, 3, 4 and 5 in this series, The Race for CASE (connected, autonomous, shared, electric), in which we will continue to explore how automakers can navigate this new era with confidence.
This article was written by Aditya Pathak, VP and Head of Cognizant's Automotive, Transportation and Logistics practice.
Subscribe for more and stay relevant
The Modern Business newsletter delivers monthly insights to help your business adapt, evolve, and respond—as if on intuition