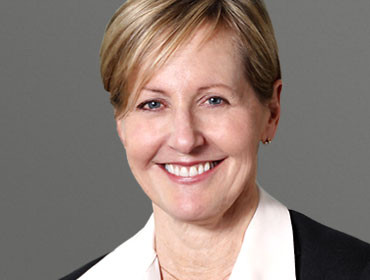 Director
Age
Birthplace
Committees
Since 2019
United States
Audit (Chair)
Finance and Strategy (member)
Sandra S. Wijnberg
Former Partner, Aquiline Holdings
Sandra S. Wijnberg brings to Cognizant's Board of Directors expertise in managing a large global professional services business from her role as CFO of Marsh & McLennan Companies, as well as a private equity perspective from her position as Partner and CAO of Aquiline Holdings.
Key skills and qualifications:
Finance, accounting and risk management
International business development
Public company governance
Regulated industries
Talent management
Technology and consulting services
Relevant experience:
Sandra was elected to Cognizant's Board in July 2019. From 2015 to early 2019, she was an Executive Advisor to Aquiline Holdings LLC, a registered investment advisory firm. She also served the company as a partner and Chief Administrative Officer from 2007 to 2014. From 2014 through 2015, she left Aquiline to work in Jerusalem at the behest of the U.S. Department of State as the Deputy Head of Mission for the Office of the Quartet (comprised of the United States, European Union, United Nations and Russia) to advance the Quartet's Palestinian economic development mandate.
Prior to joining Aquiline Holdings, she served as Senior Vice President and Chief Financial Officer of Marsh & McLennan Companies, Inc., a global professional services company, from 2000 to 2006. She held several executive-level finance roles in the food and beverages industry prior to that. These roles included Senior Vice President, Treasurer and ultimately interim Chief Financial Officer of Yum! Brands, Inc., a global operator and franchisor of quick service restaurants, and Chief Financial Officer, KFC Corporation at PepsiCo, Inc. She spent the early part of her career working in investment banking and firm management for Morgan Stanley and Lehman Brothers.
Since 2016, Sandra has served on the Board of Directors of T. Rowe Price Group, Inc., a global asset management firm, and also on the Board of Directors of Automatic Data Processing, Inc., a provider of human resources management software and services. Sandra has served on the Board of Directors of Hippo Holdings, Inc., a property insurance company, since 2021.
She previously served on the Board of Directors of Tyco International plc (now Johnson Controls International plc), a global diversified technology, building, infrastructure and transportation solutions company, from 2003 to 2016, and on the Board of Directors of Tyco Electronics Ltd. (now TE Connectivity Ltd.), a global connectivity and sensor products company, from 2007 to 2009. Additionally, she is a trustee of The John Simon Guggenheim Memorial Foundation and a director of Seeds of Peace, a non-profit organization.
Sandra holds a bachelor's degree in English literature from the University of California, Los Angeles, and a Master of Business Administration from the University of Southern California, Marshall School of Business.