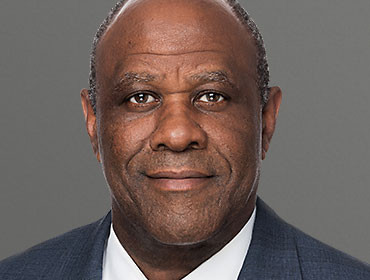 Director
Age
Birthplace
Committees
Since 2012
United States
Audit (member)
Compensation (Chair)
Governance and Sustainability (member)
Leo S. Mackay Jr.
Senior Vice President, Ethics and Enterprise Assurance of Lockheed Martin
Dr. Leo S. Mackay Jr. brings expertise in auditing and compliance, security, government contracting, and federal government senior policymaking to Cognizant's Board of Directors through his positions at Lockheed Martin and in the Bush administration.
Key skills and qualifications:
Finance, accounting and risk management
Operations management
Public company governance
Regulated industries
Security
Technology and consulting services
Relevant experience:
Leo was appointed to Cognizant's Board in September 2012. He is currently Senior Vice President, Ethics and Enterprise Assurance at Lockheed Martin Corporation (LM), a global security and aerospace company. He has held other senior positions with Lockheed Martin, including Senior Vice President, Internal Audit, Ethics and Sustainability from 2016–2018; Vice President, Ethics and Sustainability from 2011 through 2016; and Vice President, Corporate Business Development, where he was responsible for leading the company's strategic customer relationship development. Leo served as President, Integrated Coast Guard Systems LLC and Vice President and General Manager, Coast Guard Systems from 2005 through 2007. From 2003 through 2005, he served as Chief Operations Officer for ACS State Healthcare, LLC (now part of Conduent), an IT/BPO services company in the healthcare space.
In 2001, Leo was appointed by President George W. Bush and confirmed by the Senate to serve as Deputy Secretary and Chief Operating Officer of the United States Department of Veterans Affairs (VA), where he received the Exceptional Service Medal in 2003, the VA's highest honor. A former Navy F-14 pilot, Leo is a Naval Fighter Weapons School graduate and a veteran of Operation Earnest Will. He is the 2012 recipient of the Black Engineer of the Year Award for Career Achievement from US Black Engineer and Information Technology magazine.
Leo has served on the Board of Directors of Ameren Corporation, an American power company, since December 2020. He also serves as a director of LM's $400 million corporate venture capital arm, LM Ventures. He served as an independent board director of USAA Federal Savings Bank from 2016 to 2023. He is also a former Chairman of the Board of Visitors of the Graduate School of Public Affairs at the University of Maryland and a former director of the Center for a New American Security.
Leo holds a bachelor's degree from the United States Naval Academy, a master's degree in public policy from the John F. Kennedy School of Government at Harvard University and a Ph.D. in public policy from Harvard University.