How generative AI will spur a new retail era
3 ways generative AI will redefine shopping across commerce, marketing and customer service.
In the next 12 to 24 months, there's no doubt generative AI will fundamentally change the shopping experience. Rather than sifting through SKUs, customers will be offered a conversational, one-to-one personalized experience.
Amid the virtually limitless possibilities for generative AI in retail, we've identified three areas where this disruptive technology will have the largest and most immediate impact—commerce, marketing and customer service—as well as the steps companies should take to become a leader in what appears to be the next retail revolution.
1

.    Commerce: conversational and curated

With generative AI, we'll see commerce shift from structured—where retailers help shoppers find the products they need from thousands of SKUs—to "conversational." Using AI-enabled chatbots, messaging apps and other automated technologies, retailers and brands will communicate directly with customers in a more natural way.

For example, online retailer The Man Company implemented an AI-enabled chatbot via WhatsApp to provide personalized product recommendations based on shoppers' prompts. With this approach, the company tripled conversion rates within six months—without making any other changes to its marketing campaigns or shopper experience.

Soon, shopper journeys will begin not with people browsing a navigation menu or scanning the store directory, but by describing their needs to a digital tool that then provides shoppable answers.

Grocery delivery service Instacart recently rolled out its Ask Instacart tool, which uses ChatGTP to incorporate shoppable answers into the app. Customers can pose open-ended questions, such as "what is a healthy pasta dish I can make in 20 minutes," and get not only recipes but also a shopping list of all the ingredients they'll need.

Another example could be pet food customers using AI-enabled search tools and a series of prompts to cull thousands of SKUs into a short list of highly relevant products based on their pet's breed, size and allergies, as well as price, availability and shipping locations—all without manually gathering, reviewing and comparing product listings or ingredient lists.
Curated shopping with generative AI
Another advantage of generative AI is that it understands nuance and context in a way that existing search engines do not. For example, in a traditional shopping experience, customers would use the retailer's search feature or navigation menu to view swimwear options. The tool would return all relevant products, which the shopper could then filter by price, color, size, style or other attribute. This is an aggregated shopping experience, meaning a collection of products is displayed, and the shopper can act on what is presented.
With generative AI, that shopping experience becomes much more curated. For example, the tool would understand specific needs, such as "searching for a one-piece swimsuit with sleeves for a surf holiday in Hawaii." It would also factor in other known customer data and past purchase history to refine the results.
Insights from the current search would be applied to future shopping experiences, and nuance would be incorporated into the new search results. In other words, even if the shopper returns to the site next season, the tool would understand that the past search for a swimsuit with sleeves was based on a specific need and not an overall preference.
Retailers and brands can also leverage generative AI to enable new shopping experiences. For example, Google recently announced a virtual try-on feature in the US for select women's tops from H&M, Anthropologie, Everlane and Loft. The company is using generative AI to virtually display items on a variety of real models (sizes XXS to 4XL), helping shoppers visualize how the clothing would look on someone similar in size and stature to themselves.
2

.    Marketing: true one-to-one campaigns

One of the most common use cases of generative AI across all industries is the near instantaneous production of written content, such as emails, and social media posts.

But for retailers, the value of generative AI isn't just that content can be produced but also that it can be combined with customer data to develop extremely relevant and personalized interactions. This technology can enable true one-to-one campaigns by generating images, product descriptions, ad copy, social media content and other written or creative assets tailored to each recipient.

Coca-Cola has signed on to use OpenAI's DALL-E and ChatGPT technology to "improve business operations." We expect one key area will be in personalizing marketing campaigns. This might include hyper-personalized social media posts or digital ads that determine which product to promote (based on customer data), quickly produce imagery and background around that product, and generate a customized call to action. For example, the brand might serve digital ads to long-time Diet Coke drinkers reminding them to take along a can or bottle as they head into rush hour traffic at the end of a workday.

The use of ChatGPT is also making its way into product descriptions and reviews. Amazon recently announced it is experimenting with generative AI to analyze and summarize product reviews. The goal is to reduce the amount of time shoppers spend scanning reviews to manually deduce the "pros and cons" of each product.
3

.    Service: expanding and enhancing the support experience

Two of the most apparent use cases for generative AI in customer service involve developing co-pilot tools for service agents and sales enablement tools for in-store associates.

In both cases, generative AI can enhance the service professional's existing toolset. For example, AI-enabled tools can be used to call up all relevant customer data, and provide next-best actions or product recommendations.

The use of this technology will help service professionals provide faster, more accurate service, which will not only help build satisfaction and loyalty among shoppers, but also improve job satisfaction, potentially lowering attrition. The technology could also strengthen the training experience by producing real-world scenarios that instruct on how to respond to common service situations.

Generative AI can also enable new features during the customer journey, like analyzing the tone of a customer's voice to tailor responses and actions. For example, if an AI-enabled tool recognizes frustration after a long wait time, it could prompt the service agent to suggest contacting the customer once the issue is resolved or more information is available.

Self-service is another area that will change with the help of generative AI. For example, a customer might contact a consumer electronics retailer and ask for the specific model number of an item purchased in the past, request a downloadable owner's manual, or check on warranty status. The service tool could also recommend similar products to replace the item or options for repair.
Impacts across the enterprise
The introduction of generative AI into retail is likely to create a ripple effect across the business, prompting companies to rethink everything from how they store data to how they leverage physical spaces.
Retailers and brands must thoughtfully prepare a comprehensive and connected strategy that not only enables a specific generative AI use case, but also considers the wider impact on the business, its workforce and the customer experience.
Elements of this strategy should consider:
Data overload. Personalized campaigns (and to some extent co-pilot tools) will produce a volume of data that the retailer's systems and teams are not equipped to manage. Brands and retailers must integrate these AI-enabled tools into the data strategy and ensure they maintain strong data security, privacy and governance. They must also train and equip employees with a way to turn this information into actionable and valuable insights.


Changing role of the store. The use of generative AI is likely to further accelerate the shift to digital channels, spurring even more changes to the store's role within the broader retail experience. Retailers should consider how to leverage these valuable physical assets based on consumer shopping patterns and preferences.

Some retailers may consider retrofitting or adapting the store so that it can serve a hybrid function as a traditional storefront, as well as a warehouse, pick-up point, exchange/return center or showroom.

Increasing pace of change. The rapid rollout of generative AI tools will prompt change at an almost unbelievable pace. This shift will pose new challenges for retailers, many of which are still in the process of building advanced data capabilities or scaling digital initiatives. The next several years will be a critical period for companies to develop and launch programs in a way that not only meets shoppers' expectations but also ensures the profitability of the business.


Consumer backlash. The use of generative AI is still highly experimental. For example, using generative AI to create product images across different sized virtual models—in lieu of photographing any real humans—has already proved problematic for some brands. While brands can and should experiment with new use cases, they should also consider any new features from the consumer's point of view—and ensure adherence to data privacy and security standards, as well as social norms. In most cases, retailers and brands will need to analyze customer sentiment to ensure they are not exceeding their comfort levels.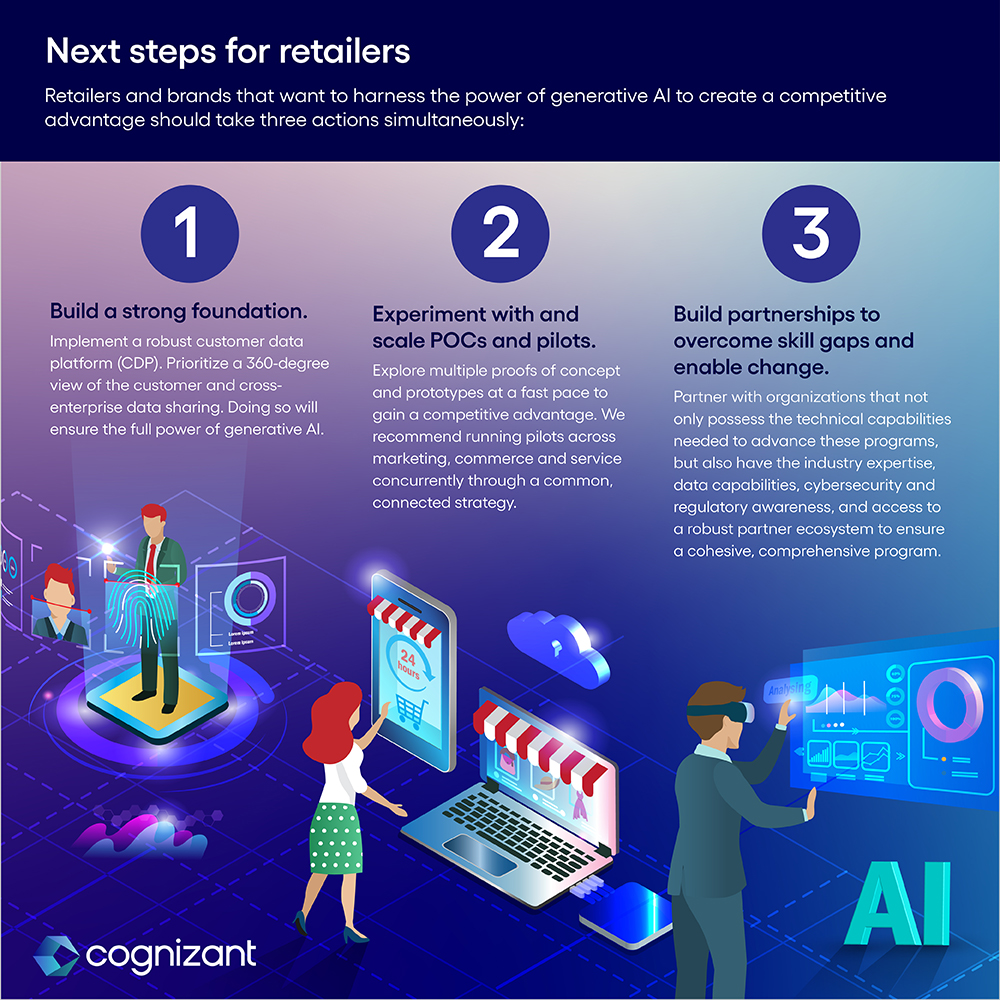 Figure 1
Leading the next retail revolution
With the advent and rapid advancement of generative AI, the retail industry is on the brink of a major revolution. It is possible for brands to begin leveraging this technology to personalize, streamline and strengthen the customer experience.
At the same time, brands must be mindful of how and where they apply generative AI. This technology is not meant to replace human interaction, so much as deepen the human connection through faster service, new features and personalized experiences.
As the world explores and experiments with generative AI, it is critical that retailers maintain human oversight of this technology and remain focused on the customer's needs and wants. The real leaders of this retail revolution will be those that successfully amplify the power of the technology in a way that brings value to shoppers, without exceeding their comfort level. After all, being at the forefront of the retail revolution means that companies need to inspire shoppers to follow their lead.
To learn more on our expertise in generative AI, visit the Retail section of our website, explore our industry partnership with Georgia Tech's School of Industrial Design or contact us.
This article was written by Emily Fridman, Head of Design and Innovation, in Cognizant's Customer Experience practice.
Subscribe for more and stay relevant
The Modern Business newsletter delivers monthly insights to help your business adapt, evolve, and respond—as if on intuition